Eskaton Home Healthcare for Seniors in the Greater Sacramento Area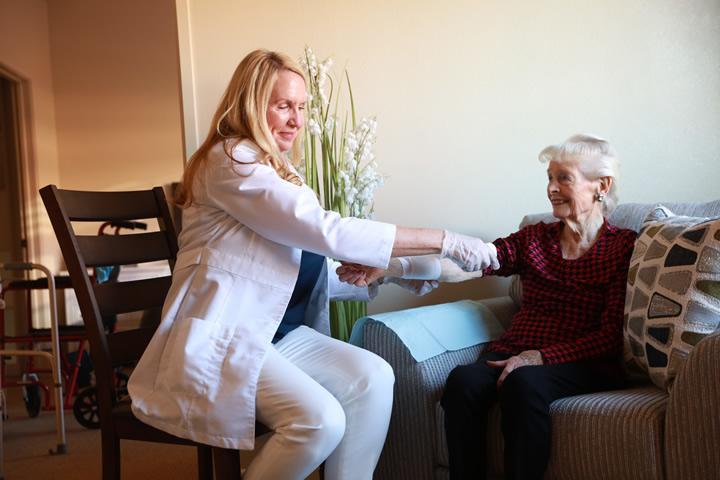 I am Conservator to a developmentally disabled brother. He has had pain in his leg for a good part of his life due to an injury at birth. Beth from Eskaton was able to identify my brothers leg pain with the simple solution as a orthotic insert in his shoe. Where Physicians would always treat with pain medication. This was a life changer for my brother. - Thank you Beth. (10-10-22)
Eskaton Home Healthcare earned a 100% score (perfect survey) from the Department of Public Health, which inspects, licenses and regulates Home Healthcare in the state of California.
Our team of skilled medical professionals will assist the patient to recover where they live and transition back to independence from a serious health issue such as an illness, surgery, hospitalization, rehabilitation or a stay at a skilled nursing facility.
Eskaton Home Healthcare is a Medicare-certified home health agency — Medicare approved individuals are 100% reimbursed.
Confused about what kind of in-home caregiver you need? Click here to see our side by side comparison of what Home Healthcare versus In Home Care offers.
Areas served include Sacramento County and Placer County, and parts of El Dorado, Nevada and Yolo counties.

Your individual care plan may include some or all of the following services
Skilled Nursing
Medication management for new and changed prescriptions, including potential side effects and adverse reactions, as well as education on self-injectables
Wound care
Diabetes care
Education on care and management of diseases or conditions
Support with physical or cognitive decline
Physical Therapy
Therapeutic exercises to prevent falls and ensure safety
Balance training
Gait training
Range of motion exercise
Proper transfer and body mechanics training
Speech Therapy
Therapy for language disorders that result in communication problems
Diagnosis and treatment for swallowing problems
Management of cognitive deficits
Non-oral communication skills
Occupational Therapy
Training to achieve independence in feeding, bathing, toileting, and dressing, including the use of adaptive equipment
Task-orientated therapeutic activities to restore physical functions
Muscle re-education
Fine-motor coordination
Energy conservation
Medical Social Worker Services
Counsel for long-range planning and decision-making
Community resources awareness and planning
Financial resources planning (not including Medi-Cal applications)
Home Health Aide Support
Assistance with activities of daily living
Contact Information
For more information about our Sacramento in home care services or to schedule an appointment, please contact us at Eskaton Home Healthcare (Email) or call 916-536-3750 or 800-499-8662.