Eskaton Cameron Park
Assisted Living in Cameron Park, CA
World Class Senior Living in Cameron Park
Over 8,000 surveyed families have said they'd recommend Eskaton to their friends and family, earning Eskaton a "World Class" Net Promoter Score (NPS)*.
Eskaton Cameron Park is situated off of Highway 50 in the rolling hills just east of Sacramento. Creating a serene community where residents enjoy the security of a worry-free lifestyle. Eskaton Cameron Park offers an intimate, home-like environment with access to assisted living support and short-term stays provided by our attentive staff around the clock. This caring environment provides peace of mind for the whole family.
Nestled close to shops and medical plazas, our community is focused on wellness, nutrition, and socialization to keep our residents active and thriving. The picturesque neighborhood is complemented by classic architecture, beautiful landscaping, walking paths, picnic areas, and natural gardens. Eskaton Cameron Park is the perfect place to make great friends and enjoy life to the fullest, with the security of knowing support services and helpful staff are always available.
Our location, not far from Folsom, puts our neighborhood in proximity to local theater, museums, and sporting events. There are plenty of shopping areas like the Folsom Premium Outlets and the Palladio nearby. Day trips or weekend destinations like Lake Tahoe, Napa and Sonoma wine country, the Gold Country and San Francisco are all an easy ride away.
While at home, we offer enhanced services such as augmented nursing support, specialized diabetes management support, and smart home technology, along with convenient services such as onsite podiatry, radiology, labs, and dental services. Our staff is available 24-hours a day to provide assistance.
For seniors who want to escape the worry of caring for a home, enjoy making new friends and trying new experiences, or simply having the security of knowing care is just a call away, Eskaton Cameron Park offers an enriching environment to live life to the fullest.
Eskaton Cameron Park is all about making sure you're experiencing the highest quality of life. We invite you to see why we believe age is beautiful. Call today to experience Eskaton Cameron Park for yourself.
*
Vital Research, a third-party firm, conducts real-time satisfaction and Net Promoter Score (NPS) research for Eskaton-owned and managed communities to determine overall customer satisfaction and their willingness to recommend our communities and services to others. Data collected October 2016 through 2021.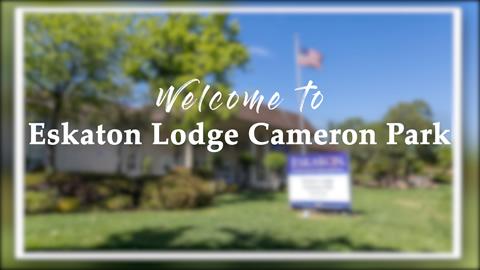 Community Tour
Directions
Eskaton Cameron Park
3421 Palmer Drive
Cameron Park, CA 95682
License #097001275
530-672-8900
For Pricing & Availability
Leadership
Levels of Care