Best Nursing Homes in California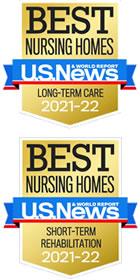 The Eskaton Care Centers listed below are among the elite 13 percent of U.S. skilled nursing facilities recognized as Best Nursing Home for 2021-22 by U.S. News & World Report.
Our Care Centers earned Best Nursing Homes status by achieving a rating of "High Performing," the highest possible rating, for Short-Term Rehabilitation and/or Long-Term Care. U.S. News gives the designation of Best Nursing Home only to those homes that satisfy U.S. News's assessment of the appropriate use of key services and consistent performance in quality measures.
Now in its 12th year, the U.S. News Best Nursing Homes ratings and profiles offer comprehensive information about care, safety, health inspections, staffing and more for nearly all of the nation's 15,000-plus nursing homes. The Best Nursing Homes ratings reflect U.S. News' exclusive analysis of publicly available data using a methodology defined by U.S. News that evaluates factors that it has determined most greatly impact patient and resident care, safety, and outcomes.
The Best Nursing Home finder features ratings on both long-term and short-term care. The Long-Term Care Rating aims to provide prospective residents who need help with daily activities, and their families, with analysis and information regarding the quality of care provided by nursing homes. The rating includes data on staffing, success in preventing ER visits and pneumonia vaccination rates, among other metrics. The short-term rating incorporates measures of quality including consistency of registered nurse staffing, use of antipsychotic drugs and success in preventing falls.
---
About U.S. News & World Report
U.S. News & World Report is the global leader in quality rankings that empower people to make better, more informed decisions about important issues affecting their lives. A digital news and information company focused on Education, Health, Money, Travel, Cars and News USNews.com provides consumer advice, rankings and analysis to serve people making complex decisions throughout all stages of life. More than 40 million people visit USNews.com each month for research and guidance. Founded in 1933, U.S. News is headquartered in Washington, D.C.