Eskaton and Arden Fair Present Inside Track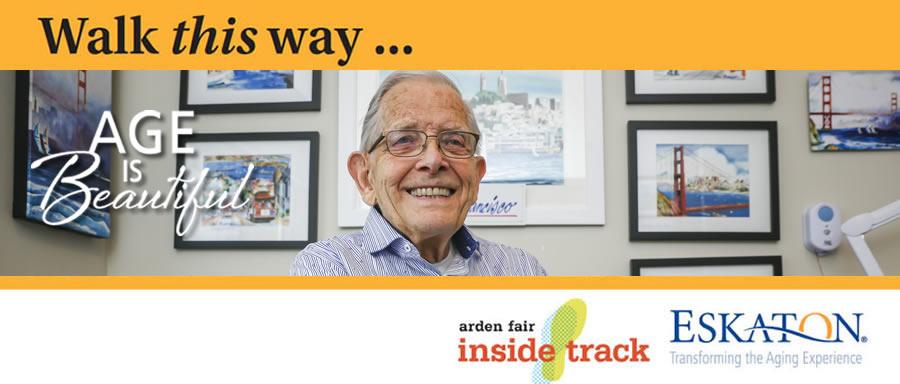 Join hundreds of walkers who gather inside Arden Fair for exercise, education and friendship. It's a no pressure, go-at-your-own-pace club called Inside Track designed for all ages and levels of fitness.
Eskaton, a nonprofit community-based organization believes in the importance of aging well, and walking is an easy activity that can be enjoyed every day. According to the Mayo Clinic, regular walking can help you maintain a healthy weight, prevent or manage high blood pressure and type 2 diabetes, strengthen your bones and improve your mood.
Becoming a partner with the Arden Fair and Inside Track was an easy choice for Eskaton. Eskaton cares about the vibrancy of the Sacramento Region and upholds exercise as an important part of everyone's daily routine. Arden Fair's Inside Track provides the perfect backdrop for Eskaton to achieve these goals through education and increased public awareness.
Inside Track, a program created by Arden Fair, attracts walkers of all ages to walk, together or solo, in a temperature-controlled environment year-round. Inside Track also provides health topics and resources to its members. "Eskaton will be our provider of health information," said Nathan Spradlin, senior manager for Arden Fair. Through quarterly breakfasts with health and wellness presentations, Eskaton aims to educate the community on healthy aging.
Upcoming Events
All events have been postponed until further notice
Eskaton continues to offer resources that encourage living well at any age. To access informative on a variety of topics including ways to stay connected amidst social isolation and tips to engage your brain please visit Eskaton's Wellness 101.
To access brain health booklet "Think Healthy" please visit

Engage Your Brain

.
---
Previous Events
Heart Health Means Supporting Your WHOLE Heart
Our featured speaker Linda Paumer, a former exercise physiologist in outpatient cardiac rehabilitation and preventive cardiology at UC Davis Medical Center for 30 years. Linda now directs the CSUS Cardiovascular Wellness Program, a community-based student training ground focused on promoting heart-healthy behaviors. For this Inside Track, Linda will offer exercises and tips for heart-healthy living. Our hope is that this session will not only be engaging and educational, but inspiring as well.
When individuals set out to improve their heart health, they focus primarily on diet and exercise. However, other lifestyle factors also affect heart health and must be addressed. Stress, social isolation, and depression can all contribute to heart disease. Doing the things you enjoy and spending time with others can greatly impact your cardiovascular health. Multiple studies have shown that social interaction lowers stress levels reducing your risk of heart disease. Stay connected by volunteering, taking a class or joining a club.
Brain Fitness
In this workshop, attendees discovered the importance of brain fitness. There is a lot you can do to help keep your brain in shape. Inside Track members learned practical ways to intentionally give their brains a worthwhile workout. Interestingly, brain fitness involves activities that are intensive, repetitive and progressively changing.
Behavioral Scientist Michael Hirsch inspired people to "Meet and Greet Your Brain" daily. Michael was on the faculty of UC Davis until he developed The Brain Gymnasium sixteen years ago. Since then, Michael has brought The Brain Gymnasium to several local senior communities including Eskaton. Sharpening your brain is not only possible, but also fun and rewarding.
Workshop included a free continental breakfast along with free cholesterol and glucose screenings.
Read Top 10 Ways to Keep Your Mind Alert and Your Brain Well to learn more brain fitness activities.
Protect Yourself from Scams and ID Theft
Elder financial abuse is a growing threat to seniors. How can you protect yourself and your loved ones from exploitation? Attorney Michael Hackard will present "Safeguarding Seniors from Financial Exploitation".
Michael Hackard, a veteran trust litigator, shares his experience and outlines effective defenses against wrongdoers. He also discusses vulnerabilities caused by Alzheimer's, the most common types of abuses, scams against seniors, and the most effective ways to prevent abuse.
Detective Sean Smith with Sacramento Sherriff's Department will discuss trends in ID theft and provide steps that you can take to avoid being a victim.
Balance and Fall Prevention
Did you know one in three people over the age of 65 fall each year? That's why this information is so valuable to inspire healthy aging. The fear of falling can be reduced through education, awareness and exercise.
Kaiser Permanente Trauma Program Director, Christine McGahey, RN BSN, will speak about the importance of maintaining balance through healthy actions, including a safe home environment, medicine review, vision checks, keeping up strength through movement, and more.
Download your FREE copy of the Balance Workbook.