Eskaton Lodge Gold River Senior Living

Eskaton Lodge Gold River
Independent Living with Services, Assisted Living, Pre-Memory and Memory Care in Gold River, CA
World Class Senior Living in Gold River
Over 8,000 surveyed families have said they'd recommend Eskaton to their friends and family, earning Eskaton a "World Class" Net Promoter Score (NPS)*.
Eskaton Lodge Gold River is a beautiful community on the fringe of the American River Parkway. Residents enjoy a gorgeous, yet comfortable setting with customized programs, such as Dayspring Pre-memory Care and Dawn of a New Day Memory Care, and a host of amenities assuring there is always something enriching to do, no matter your age or interest. Our staff focuses on wellness, nutrition and socialization to enhance the life experience of each resident.
The Eskaton Lodge Gold River neighborhood is complete with tree-lined streets and pathways for casual walks and pet-friendly strolls. The picturesque campus is close to shops, restaurants and medical plazas. Our location, just outside of Sacramento, puts our neighborhood in perfect proximity to local theater, museums and shopping areas like Arden Fair Mall, the Pavilions, the Palladio and the Folsom Premium Outlets. Our team plans outings twice a week to places like shopping centers, special community events or picnics in addition to a full calendar of activities, classes and musical guests.
While at home, the Lodge has postal, ancillary services, pharmacy and salon services available on campus. Our staff is available 24-hours a day to help provide assistance. Many members of our team have been with us for more than eight years and are part of the tight-knit community that residents enjoy.
When you are ready to leave behind the burden of maintaining a home, want the security of round-the-clock assistance, or just want to make new friends and discover new passions, Eskaton Lodge Gold River offers a convenient environment for seniors looking to enrich their lives and enjoy their independence.
Eskaton Lodge Gold River is all about making sure you're experiencing the highest quality of life. We invite you to see why we believe age is beautiful; reflecting the lives and stories of older adults in our community.
*
Vital Research, a third-party firm, conducts real-time satisfaction and Net Promoter Score (NPS) research for Eskaton-owned and managed communities to determine overall customer satisfaction and their willingness to recommend our communities and services to others. Data collected October 2016 through 2021.
---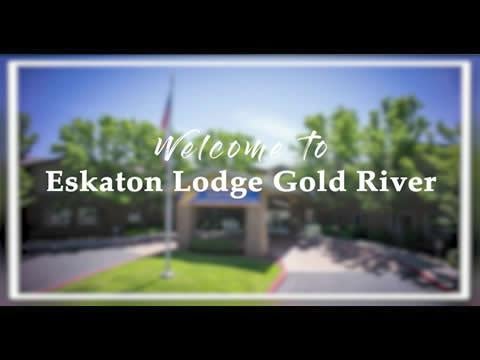 Community Tour
The staff, the management, the residents everyone at Eskaton Lodge Gold River are awesome! The staff are always very attentive to anyone asking for any type of help, little or big. This place is very peaceful and calm yet live and cheerful. The food that they prepare you will never find anywhere. The meals are always varied and surprise you with every bite. The residents here are taken very good care of, despite their levels of care. If you are looking for a place to take care of any seniors you might have or know, this would be the place. Katya B.
Directions
Eskaton Lodge Gold River
11390 Coloma Road
Gold River, CA 95670
License #347001241
916-852-7900
For Pricing & Availability
Leadership
Levels of Care
Eskaton Lodge Gold River
Photo Gallery







1/6