CNA Academy – Nursing Assistant Training Program
Eskaton Care Center Fair Oaks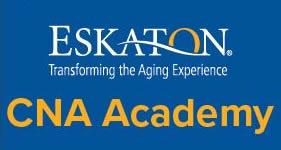 We are currently accepting applications from those interested in becoming a Certified Nursing Assistant! (Application Deadline: November 22nd)
Program Start Date: Thursday, December 2, 2021
8:30 a.m. – 5:00 p.m.
Monday – Friday
Eskaton Care Center Fair Oaks
11300 Fair Oaks Boulevard
Fair Oaks, CA 95628
916-965-4663
Program Details:
Location: Eskaton Care Center Fair Oaks
Hours/Duration: 6:30 a.m. – 3:30 p.m., Monday – Friday
(2 weeks classroom training, 3 weeks clinical rotation, 1 week makeup and test prep)
NO COST TRAINING: Textbooks, uniforms and testing fees covered by Eskaton*
Pay Rate: Minimum wage during program, then starting CNA pay rate upon program completion (current Eskaton employees retain their current pay rate). $500 retention bonus paid upon one year of service.
Eligibility Requirements:
High school diploma or GED equivalent
Live Scan fingerprinting and criminal background check
Valid government-issued ID (driver's license, ID card, passport, alien card)
Social Security card
Physical examination (including drug screening)
COVID-19/TB testing and flu vaccine
Proficient in speaking, reading, and understanding the English language
Program participants must be Eskaton employees, and meet all employment requirements. Current Eskaton employees will need to transfer to Eskaton Care Center Fair Oaks.
Signed agreement required detailing program cost forgiveness or reimbursement.
If you are interested in applying or want more information about the program, contact 916-965-4663 and mention the CNA Academy!
Apply in person at:
Eskaton Care Center Fair Oaks
11300 Fair Oaks Boulevard
Fair Oaks, CA 95628
*All program costs are paid by Eskaton and are forgiven over one year of post-training employment. Trainees who do not continue employment with Eskaton after training must pay back program costs. Contact the community for details.