Assisted Living in Stockton CA
Eskaton-Managed Quality Assisted Living Community in Stockton
O'Connor Woods, an Eskaton-managed assisted living community in Stockton, CA, offers a vast array of resort-style comforts and conveniences in addition to personalized assistance with activities of daily living. If you are looking for a safe, supportive environment where independence and personal choice are celebrated and fostered for yourself or a loved one, look no further than O'Connor Woods.
With a large variety of programs and services designed to enrich the lives of their residents, O'Connor Woods offers a holistic environment that supports older adults in leading the life they desire. Conveniently located near shopping areas, restaurants, and entertainment venues, with easy access to medical services should they ever become necessary, O'Connor Woods is vastly different from other assisted living facilities in the San Joaquin Valley. Dedicated to providing more than just physical care, the O'Connor Woods care team believes the best way to serve the older adults of our community is by offering life-enriching services that address the full continuum of their needs and preferences
---
Stockton's Best Assisted Living for Mom or Dad
Eskaton-managed assisted living communities like O'Connor Woods are designed to provide residents with all the comforts and security of home while eliminating the hassle and maintenance of ownership. Restaurant-style dining options provide healthy, locally-sourced cuisine and opportunities for social engagement. Housekeeping and transportation services are available at all Eskaton communities, and every residence is pet-friendly, so your four-legged friends are always welcome! With 24-hour staffing, you or your loved one will be constantly supported by care partners who are truly invested in the health and happiness of those they serve.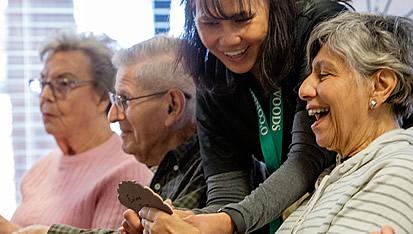 Beyond innovative educational, cultural, and social programs, our communities provide spiritual care programs developed from relationships with local churches. Whether hosting Bible study at the communities, providing transportation to various places of worship, or facilitating chaplain visits, Eskaton believes that all residents should be afforded access to spiritual care should they desire it.
Like all Eskaton assisted living communities, O'Connor Woods also provides top-notch exercise classes to keep residents moving and active. With activity calendars full of recreational pursuits and a state-of-the-art fitness center on-campus, we remain committed to offering our residents a large range of options to help keep them physically, mentally, and emotionally healthy.
---
Assistance with Daily Activities
Some residents need a little extra support, and O'Connor Woods is ready to help. In addition to valuable and wide-ranging programs, our assisted living care staff and care partners can also provide our residents direct assistance with activities of daily living (ADLs), such as bathing, grooming, medication management, and more. Our professional, compassionate team members are dedicated to the well-being of older adults, working tirelessly to afford our residents much-needed support in the comfort of their own homes. If you or your loved one could benefit from this extra level of assistance, O'Connor Woods is prepared to provide it.
---
Stockton Assisted Living | An Eskaton-Managed Senior Living Community
As each resident has specific wants and requirements, Eskaton and O'Connor Woods understand that there is no "one size fits all" approach to providing senior care. In contrast to other assisted living facilities in San Joaquin and the Valley, we believe that living well is possible at any age. It is precisely this tailor-made approach to senior living services that makes O'Connor Woods a stand-out in the industry and defines the Eskaton difference.
If you or your parent believes it may be time to consider transitioning to an assisted living community like O'Connor Woods, click the link below and arrange for a visit. We'd love the chance to meet you and show you how Eskaton is Transforming the Aging Experience.