104 Years Old, In Love with Technology
Carolyn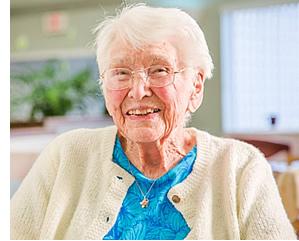 Carolyn, 104, loves technology. The iPad is her device of choice. "I had a computer in my apartment before moving to Eskaton." Six years ago, Carolyn made her home at Eskaton Care Center Fair Oaks. She received an iPad as a gift when she turned 100. Carolyn said it wasn't hard to learn at all, and if she needs help, she turns to her grandson. "My grandson is in the business, he knows all about these things. If I ever have a problem, he comes over and fixes it."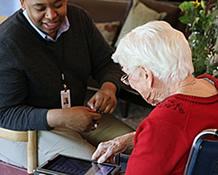 Carolyn uses her iPad for Skype, taking and sharing photos, and playing "Words with Friends". She enjoys reading romance novels on it and is currently enthralled with "All You Need Is Love".
She shared her most recent photograph, a beautiful purple orchid on the shelf in her room. Carolyn explained she just received it as a gift from her Certified Nursing Assistant (CNA) Kimberly.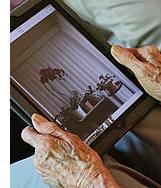 Kimberly's mom and Carolyn both have a love of orchids. "I am appreciative of my CNAs. They are careful and caring. They are really great at their jobs." Carolyn says it feels amazing to be over 100 years old, but she never put much thought into age. And that is her secret to aging. View video.