91-year-old man and 90-year-old woman tie the knot after two years of dating
Don and Betty Journey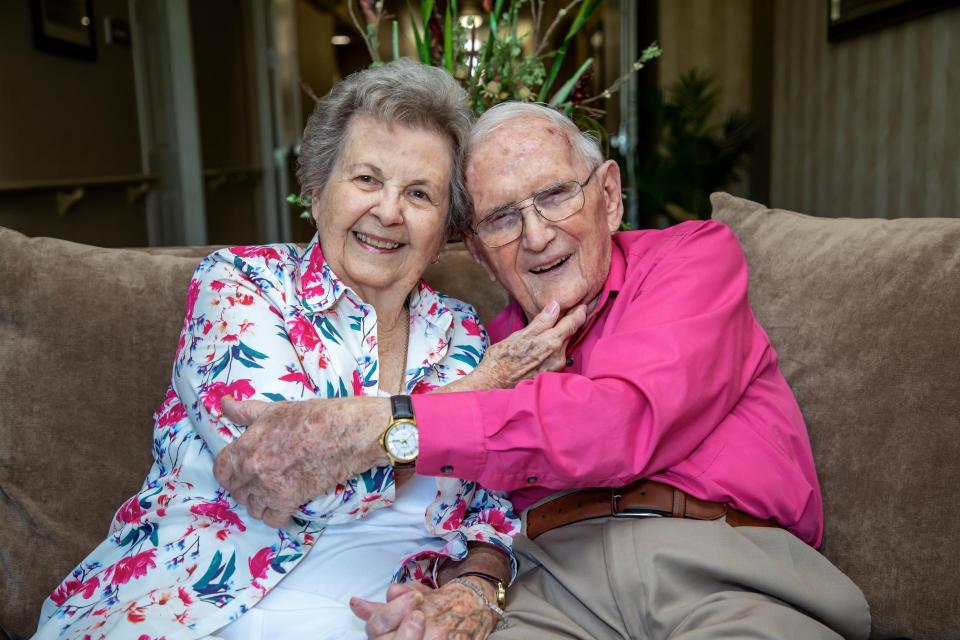 A Love Story Kindled by 90 and 91-year–old
In 2017, Betty Mills, 88, moved to Eskaton Lodge Granite Bay from Red Bluff to be closer to her daughter. The first Sunday after she moved, Betty gathered the courage to go to church with her neighbors. As she was waiting for the bus, Betty locked eyes with a man sitting on a bench outside the community.
Don Journey, 89, was sitting on his favorite bench. These coveted benches provide a great vantage point for watching the world. On that particular Sunday morning, Don also was waiting for the bus for church. Word of new neighbors travels fast at this small community, so Don already knew that Betty was originally from Iowa. And he knew immediately that he wanted to introduce himself to her.
Don was not looking for a romantic relationship when he saw Betty that Sunday morning. He was simply hoping to strike up a friendly conversation with a fellow Iowan. When he got on the bus, Betty offered him a seat, and Don gladly accepted. That bus ride to church began the next chapter of their lives.
After that first bus trip, Don asked Betty on an official date. They went to a bird sanctuary, and on the way home, Betty fell asleep on Don's shoulder, still holding his hand. From that moment, they began spending all of their free time together. Their weekly standing dates included going to church and Bible study.

"I realized I was in love after our third date," shared Don. Betty never imagined falling in love again. At the beginning, she told Don, "We are too old to be in love. But here we are completely in love!" Betty and Don have now been dating for two years. Today Betty shares the advice, "You are never too old for love."
After losing their spouses neither of them expected to feel this type of connection with another person. Both Betty and Don had both been happily married for over 60 years and recently had lost their spouses. "The Lord brought us together," said Don. "We were meant to be." Losing a partner was devastating and left both with a feeling of emptiness. "Our relationship changed everything," said Betty.
"It is an amazing feeling to be in love again. I love her smile, her beauty and just everything about her," said Don. The happy couple sits on the couch holding hands, staring adoringly at each other and occasionally stealing a kiss. Their love brightens up the entire room. "We are just two silly kids in love," they admit.
Don and Betty were married on July 27th, surrounded by close family at Eskaton Lodge Granite Bay. Don is 91 and Betty is 90. Their secret to living well is resiliency. "The world will knock you down sometimes, but just get back up and put in 100% or 200%," said Don. "This is just what we do now, hold hands and smile at each other," said Betty. They are most looking forward to spending the rest of their lives together.
With combined experience of over 120 years of a successful marriage, Betty and Don's advice for couples is to be patient with each other, to bring an open heart and mind to the marriage, and to look forward to every minute they are blessed to experience together.