Eskaton Deploys Amazon Alexa
Experts get real about voice technology in senior living.
Over the past two years, voice assistants such as Apple's Siri, Amazon's Alexa and Google Home have seen an increase of 66 million users. And that number only continues to grow. Adoption of voice-first technology among senior service providers and residents living in assisted living has far-reaching implications. Many believe that voice-first technology will revolutionize the senior service industry, but few providers have deployed this technology on a large scale.
That's why Eskaton gathered four experts to discuss just that: Sheri Peifer, Derek Holt and two Eskaton residents. Eskaton's Director of strategic initiatives, Therese ten Brinke, led the panel in a lively discussion to explore how Amazon Alexa, and other voice assistants, can change the way care is delivered and supported.
Meet the Experts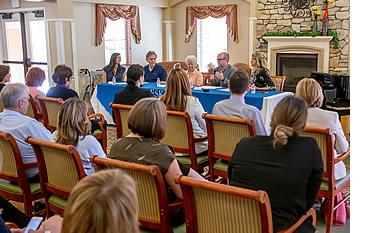 Sheri Peifer, Chief Strategy Officer for Eskaton, guides the first senior living provider to deploy Alexa in assisted living to all residents.
Derek Holt is president and COO of K4Connect, a solution provider for resident engagement and smart technologies. K4Connect recently added Amazon Alexa to its suite of solutions.
Joyce Lynch, a 92-year-old living at Eskaton Village Roseville, was an early adopter of Amazon Alexa. She agreed to test Alexa in her apartment because she felt it would help her to understand technology and better communicate with her family. As someone living with macular degeneration, she experiences the benefits of voice-first technology every day.
Clyde Cummings, a resident at Eskaton Village Roseville, was the first person to request voice-first technology when Eskaton rolled out smart lighting in 2018. As someone living with Parkinson's disease, the ability to control his environment with his voice means more independence.
Our Top Takeaways
Voice is transforming life in Eskaton communities.
Speaking feels more natural than interacting with other forms of technology, like computers or tablets. "When we can use our voice, it really does break down the barriers of adoption," explained Sheri. "Voice-first technology is extremely interesting because it reduces the friction of technology adoption."
"We've seen the adoption of voice skyrocket for every demographic," said Derek. "It's unlocking next-generation technology for everyone."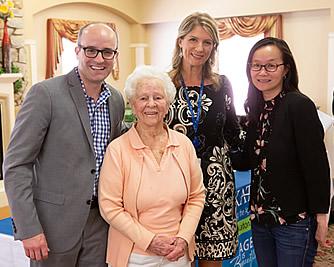 Alexa is not just a personal assistant, but also a friend. Joyce is a mother of five and is used to a full house. She loves noise and activity in her home. "It's like having another friend in the room with you," shares Joyce. Alexa provides a sense of connection to other generations, too. Joyce's children and grandchildren tell her she has finally joined the 21st century.
Alexa also supports day-to-day living. Tasks like getting up to switch a light on or off or looking at the clock can be difficult for residents living with vision or mobility changes. Clyde shares that living with Parkinson's disease is challenging and can cause him to feel disoriented. "I frequently feel upside down and I ask Alexa what time is it to keep me orientated," said Clyde. "Sometimes I'm frozen when I'm lying in bed and can't get up," he said. "It's frustrating to be lying on your back waiting for your thoughts to come together. Speaking to Alexa enables me to verbalize with my voice when I need help from my care partners." He also finds it comforting that when he talks, she answers.
Voice adoption is high among residents.
"The adoption rate at Eskaton Village Roseville is 82% and over 70% of the residents use Alexa on a daily or weekly basis," said Derek. This adoption rate may have some skeptics questioning its validity. Sheri explained that team members have been creative in their approach to education. "From office hours, weekly meet-ups and command suggestions, the team members have recognized that some guided support and continued education may be needed to encourage adoption," said Sheri.
The community intentionally offered Alexa to residents of all abilities, including those living with dementia. The staff felt that voice technology offered the opportunity to personalize the environment with music and Alexa's skills could be used with the support of care partners.
Eskaton Village Roseville found that the content available on Alexa is also tied to adoption. The ability to access community events, menus and announcements is important to residents like Joyce and Clyde who are living with mobility and vision changes. Alexa makes this information more accessible.
Derek reported the favorite features are "Lights, music and menus." Sheri added, "The fact that light control is the top utilized feature demonstrates that residents are interacting with their environment differently because of Alexa."
Voice-technology is elder recommended.
Joyce tells her peers, "Just try it." She was not surprised to see some resistance to voice technology at first because "Some people are set in their ways and don't like change." To those that are on the fence about Alexa, she said "Try it, you'll like it."
Clyde stated that residents need to be open to learning. He was an avid Mac user, but his tremors have made using the computer more difficult. Voice-first is a new platform that he is open to learning because of its adaptability. He said, "Be patient with yourself as you learn. There is a learning curve and it will take some time, but you will get it."
At Eskaton Village Roseville, voice-first technology is here to stay. Eskaton will continue to evaluate the utilization of Alexa and has plans to offer voice-first technology across its residential living communities.