Exposures: I Care: Crafting warmth for newborns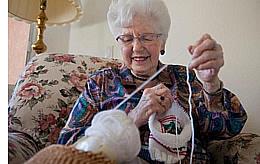 Marian Thompson sits in her armchair, tugging on a spool of yarn. Her needles work in harmony, stitching a baby cap. At 96, her hands ache with arthritis, but she rarely stops to rest.
She knits more baby caps than any member of the Kiddie Kaps knitting group at Eskaton Village Carmichael. Her personal count is 4,226 caps since she joined the Eskaton knitters in 2006. The group has donated over 20,000 baby caps since 2004, bringing comfort to newborns at Sacramento area hospitals.
"A lot of times, I say a little prayer when I'm knitting the cap," says Thompson. "(I'm) thinking, 'I hope this cap blesses a baby and keeps its little head warm.'"