How Commonwealth, Eskaton, Goodwin House Got Creative to Engage and Retain Staff During Labor Crisis

March 11, 2022
Facing historic labor pressures, some senior living operators are turning their focus on improving working conditions as a way to recruit and retain workers.
A recent survey by the National Investment Center for Seniors Housing & Care (NIC) showed that attracting and retaining staff is the most significant challenge operators face in 2022.
In the latest survey, released March 10, owners and executives of 67 small, medium, and large senior housing and skilled nursing operators reported near-universal staffing challenges, with 86% of them identifying attracting community and caregiving staff as their most significant current challenge. Another 60% said the same thing about employee turnover.
In response, operators are trying a variety of strategies to boost hiring and retention, from having salespeople act as recruiters to deploying robots that can handle menial tasks so that employees don't have to. Three operators – Commonwealth Senior Living, Goodwin House Incorporated, and Eskaton –have taken a different approach based on keeping workers happy and helping to meet their needs, both at work and in their personal lives. These companies have utilized programs to help employees earn U.S. citizenship, give them a louder voice, or to involve them more closely in community programming.
Living the sweet life
Many programs meant to boost staff engagement are tailored specifically for staff. But a new memory care program from Charlottesville, Virginia-based Commonwealth Senior Living has flipped that notion on its head.
The company recently implemented an initiative called "Sweet Life" with the overall goal of increasing the amount of time workers spend with residents and boost engagement.
For Commonwealth Senior Living Vice President of Resident Programming, Paula Harder, the initiative represents a return to her roots as a 16-year-old caregiver at a senior living community.
"I vividly remember being in a hallway, crouched down talking to a resident holding her hand and looking her in the eyes and laughing with her," Harder told Senior Housing News.
She also remembers how a licensed practical nurse saw the interaction and asked Harder, "Isn't there something better you could be doing?"
At the time, she thought she had done something wrong. But now, she realizes that interaction was an opportunity, not wasted time.
Sweet Life began as an impromptu effort to solve disconnection between staff and residents at one Commonwealth community in November 2021.
"I asked [our program directors] to start thinking about and observing disconnection and what we can do about it," Harder told SHN.
The program directors told Harder that some residents did not feel interested in their communities' activities, and that lack of interest discouraged caregivers.
So, the community's staff scrapped the day's activities and started programs in the dining room with everybody participating – caregivers, housekeeping, program leaders, and all of the memory care residents.
This turned into a three-hour event.
"Every single associate and every resident was participating and awake and engaged, which is something you rarely get in memory care," Harder told SHN. "For them to stay awake and engaged for three hours was spectacular."
The success of this impromptu program was exciting, but when it was replicated a second time, Harder knew it was time to scale it.
"One of our program directors … told caregivers 'Hey, when you're done [with your tasks], come play with us,' " Harder said. "Within thirty minutes our regional VP walked in and said it was the most engaged memory care neighborhood she'd ever seen."
Commonwealth is now implementing the Sweet Life program at all of its 34 communities, with six rolling out the program first so that community-level mentors can train others within the company's portfolio.
Barely four months old, the program has yet to result in any concrete improvement in recruiting or retaining staff, Harder said. But Sweet Life is still in its early stages, and so far, the feedback from other leaders has been outstanding.
"I think people are looking for a new way of doing something that is truly a grind and hasn't worked for a long time," Harder said.
Like many operators, Commonwealth has tested approaches to solving the staffing crisis, such as new software to boost efficiency, gifts for staff or other incentives. But, Harder thinks improving engagement and self-worth might be more effective.
"In a difficult industry, there has to be a reason to go to work every day," she said.
Now that she has seen the Sweet Life program in action, Harder thinks back to her 16-year-old self's interaction with the LPN. For one, her answer to the question of whether she could be doing "something better" would be different.
"No, there isn't something better I could be doing," she said.
Listen first
Many senior living operators have made it a goal to more closely listen to employees' concerns and desires. Eskaton took that goal to another level with an initiative the organization has dubbed "listening circles."
During a roundtable discussion at a management committee retreat last year, about a dozen leaders with the Carmichael, California-based organization shared their concerns about the pressures faced by staff amid the pandemic. As they talked, they drew inspiration from the fact that they were all seated in a circle, and decided that was worth bringing to the organization's 21 communities.
Thus, the listening circle effort was born.
The leaders landed on three specific questions to ask staff during listening circles: what is going well; what is most challenging; and how can the organization help?
Between May and June 2021, Eskaton conducted listening circles, with 210 community management and leaders participating. In all, they collected 57 pages of feedback.
Initially, the organization's leaders heard about a lot of "low-hanging fruit," such as improving support response times and strengthening community WiFi, according to Eskaton Chief Strategy Officer, Sheri Peifer.
The organization also received feedback regarding its payment practices for employees. In response to that feedback, Eskaton launched a per diem option for employees.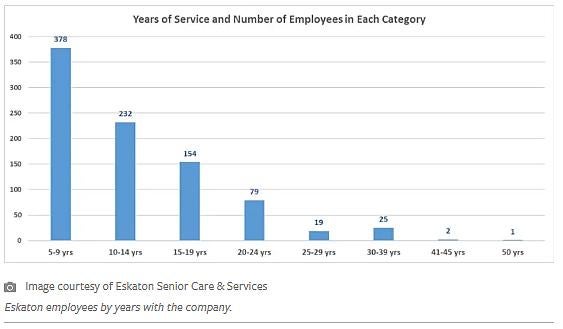 "We recognize that while Eskaton has its own health plan and benefits, that is perhaps not what some employees wanted," said Peifer. "More flexibility and a higher wage could be more desired than a wage with benefits."
Almost 900 of Eskaton's more than 2,100 employees have been with the company for more than five years, including 126 who have worked with the organization for 20 or more years.
"We actually have an employee celebrating their 50th work anniversary in March, which is shocking," Peifer said.
Path to citizenship
In 2018, Rita Siebenaler – a resident of the Goodwin House Community Bailey's Crossroads community in Falls Church, Virginia, – was speaking with a staffer who was not a citizen of the U.S.
In her conversation, Siebenaler learned there were barriers to earning citizenship that she hadn't been aware of – chief among them a more than $700 application fee, a steep cost for hourly workers.
Siebenaler suggested to Goodwin House that the organization ought to figure out a way to help employees who wanted to become residents.
So, the senior living operator launched a program that ultimately raised $40,000 to help employees attain citizenship. Since implementing the program in 2018, 90 Goodwin House employees have become U.S. citizens.
Once an employee has worked with Goodwin House for 6 months, they are eligible to receive funding for their U.S. citizenship journey.
"We really strive to be a community of welcome," Goodwin House CEO Rob Liebrich told Senior Housing News.
Liebrich believes that the ripple effect of the program led to improved staff recruitment and retention, as well as improved resident satisfaction and retention.
"Once people can go through the program … they refer family members, they refer friends to us," Liebrich said.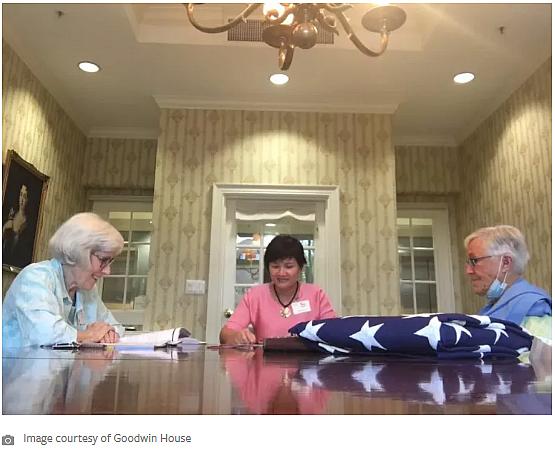 The program received such overwhelming support from staff and residents that one worker who left the company after completing higher education – assisted by Goodwin House – returned specifically to talk with current staff about the programs available to them.
Residents also help tutor staff in the lead-up to their citizenship exam, leading to a bond that Liebrich believes helps both staff and resident retention.
"I think we retain residents because they see the dramatic, positive impact – not only because of their gifts, but their work," he said.
Today, Goodwin House employs just under 1,000 staff members from 60 different countries. The organization even recently expanded the program to include citizenship support for an employee's family member.
Companies featured in this article:
Commonwealth Senior Living, Eskaton, Goodwin House