Meet Lucy, 100 years old and always smiling
Lucy Venegas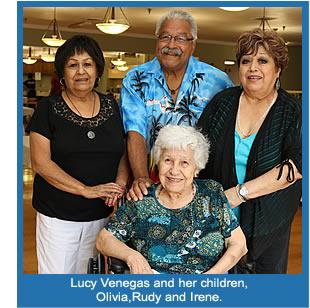 "Sometimes your joy is the source of your smile, but sometimes your smile can be the source of your joy." -Thich Nhat Hanh
Lucy's smile is contagious. For almost three years Lucy has shared the magic of her smile at the Eskaton community where she lives.
Lucy takes after her Grandma Atanacia from Chihuahua, Mexico. "Mama" had fair skin, blues eyes and, according to Lucy, was quite silly. She lived to be 104. "She was a happy, fun loving lady," said Lucy.
You might say the same about Lucy. She is happy and fun loving. Singing and dancing have been a huge part of her life, even though life hasn't always been pleasant. Lucy is one of 16 children, seven of whom died in infancy. She also lost two older sisters before the passing of both her parents — all before she reached 15 years of age.
Moving to Roseville, California, may have been the best thing to ever happen to Lucy. It was at the Lincoln Cannery where she worked that she met Rudy Venegas, the love of her life.
Lucy's Love Story
Sparks flew when 19-year-old Lucy received her first kiss from the man who would become her husband. It was New Year's Eve in downtown Sacramento, 1935. Rudy was handsome and owned a chic Model A Ford.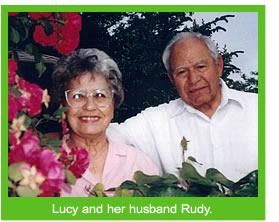 "Staying married for over 60 years takes patience, respect and love for one another," said daughter Irene. "These two seem to have found the secret of living tighter and staying close even with all the ups and downs that life seems to throw our way."
Living to 100 years old
After 68 years of marriage, three children, 13 grandchildren, and 14 great-grandchildren, Lucy is now a widow. She misses Rudy, but that hasn't kept her from sharing the joy in her life with her magical smile.
After Rudy passed, Lucy lived by herself, and her family worried about her. Soon it came time to research senior living, and Irene remembered the "nice, two-story rehabilitation place" where Lucy stayed recovering from a broken hip. Lucy moved to Eskaton, where she has become like family.
"The staff are nice and patient," said Irene. "Mom is well taken care of. They treat her like family."