"Sometimes your joy is the source of your smile, but sometimes your smile can be the source of your joy." -Thich Nhat Hanh
Born in 1928, Vic DeStefani spent his life in California. He was raised on a farm in the Central Valley. "I was going to be a farmer," said Vic. That was until he met LaReece. Vic was working in a grocery store in Stockton and LaReece worked in the back office. She was also raised on a farm. After dating three years, they married in 1949 and continued a long and loving life together as grocers.
Successful in Business
"She's a sharp business lady," said Vic. He remembers living in Fairfield and LaReece coming home saying, "I am going to bid on the old fire station." She bought the building and opened a deli and restaurant. Vic and LaReece started a chain of IGA grocery stores called Vic's Market and eventually moved to the Sacramento area. They had a total of seven stores. Vic handled the downstairs logistics and LaReece took care of all the office work. Even their grandkids worked at the store. In 1986, they were honored as the retailer of the year by IGA. Vic proudly wears a ring awarded to him by the company.
Raising a Family
Vic and LaReece raised four children. They are proud grandparents of 13 and great-grandparents of 17. "LaReece loved having the kids come over to swim. She would take them to Leatherby's for ice cream," reminisced Vic.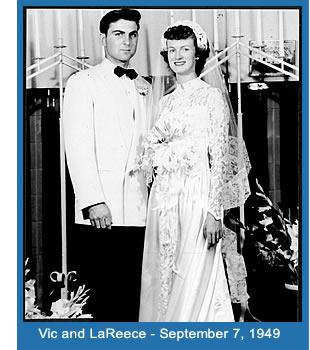 The couple traveled to 57 countries. "We did a lot of traveling when we were healthy and had money." His favorite memory is of their 50th wedding anniversary where 28 of their family members took a cruise to Mexico.
Changes in Health
In 2007, their life changed. They had just returned home from a trip when LaReece suffered a severe stroke. She was later was diagnosed with Alzheimer's disease. Vic became her primary caregiver, doing all the work including lifting her. When he suffered a back injury, his family urged him to get help. This led him to looking for an assisted living community where they could live together. Vic wasn't about to leave her side.
Lessons in Being a Caregiver
Vic agrees caregivers need a lot of breaks; listen to Vic talk about being a family caregiver He feels lucky that he has a family to watch out for him. Vic takes solace in his daily three mile bike rides that allow him to clear his head and stay physically active. Vic has some advice about choosing a community: When looking for senior living, do a lot of investigating and understand what makes each one different. He looked at a brand new community, but noticed it wasn't too inviting, and the apartments were like college dorm rooms. When he first walked into Eskaton he said "That place impressed me. It was friendly and everyone seemed to be nice."
Advice for a Long and Happy Marriage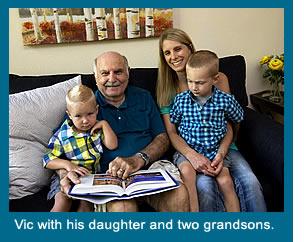 Vic loves to tell LaReece's story about completing grad school and building a successful business. He is proud of his wife and her accomplishments. "We have trust in each other," said Vic. "You have to compromise and be respectful to each other's wishes." He notes he said "yes dear" a lot over the years.