The Reutlinger Community – Assisted Living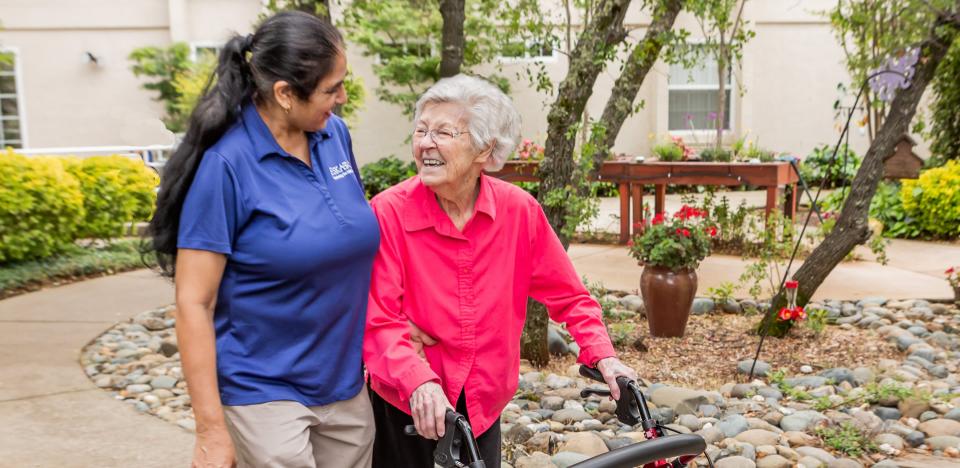 Assisted Living at The Reutlinger Community is designed to give our residents all the comforts of home, along with the peace of mind of knowing they can live their lives at The Reutlinger Community no matter how their needs change. Restaurant-style dining options provide fresh, creative cuisine and opportunities for connection. Kosher dining available upon request- and Passover is stickily kosher. Housekeeping and transportation services are available, and with 24-hour staffing, you or your loved one will be constantly supported by care partners who are truly invested in their health and happiness.
Life at The Reutlinger Community provides continuous opportunities for you to live your life to its fullest in an atmosphere of choice, freedom and flexibility. Should you wish, your days can be filled with lifelong learning programs, activities and opportunities for socialization in a comfortable, safe and caring environment.
New friendships will bloom as you dine, participate in programs, and interact with fellow residents, staff and guests. You will find that our beautiful community offers all the amenities you would expect in a 5-star hospitality setting – beautiful lounge areas, dining rooms, an art room and physical fitness studio in addition to your own living area that you can personalize.
Most importantly, respecting your individual needs is our highest priority and our staff is committed to doing everything possible to make you feel understood, included and welcome.
Assisted Living Basic Services
Three restaurant-style meals daily, with snacks & beverages available 24/7
Social, cultural, educational and religious programs
Art program
Daily scheduled transportation
Weekly housekeeping and laundry service
Daily bed-making and trash pick-up
Full-time social worker, concierge and rabbi
Licensed nurses on-site 24/7
Apartment Amenities
Kitchenettes include a refrigerator, sink and cabinets
Residences have living, dining, bedroom and bath areas
Utilities, cable TV, telephone, wireless internet, Wi-Fi
Emergency call system for every residence
Individually-operated heating and cooling unit
Personalization encouraged