From Theaters to salons to libraries, senior living facilities offer luxury
Shared from the 10/25/2020 San Francisco Chronicle eEdition – SENIOR LIVING By Carolyne Zinko
The Trousdale is in a six-story building that contains a theater, salon, spa for acupuncture and massage and fitness center.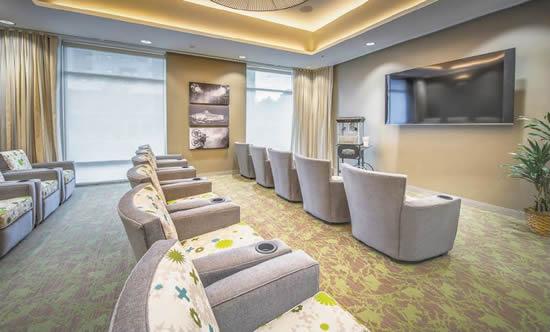 Health care is an important factor in selecting a senior living facility, but not the only one. From in-house theaters and salons to spas with acupuncture, retirement communities are offering unique experiences to stand out
The Trousdale, a 124-unit complex with assisted living and memory care in Burlingame, is owned by the Peninsula Health Care District. Is it clinical? Anything but.
Resident Anny Maran, 75, a retired executive assistant, likens The Trousdale to a "luxury hotel," for good reason. The community – Licensed to serve up to 140 adults ages 62 and older – is housed in a six-story building that contains a wellness clinic, learning center, theater, solon, spa for acupuncture and massage, fitness center and three dining facilities (a restaurant, private dining room and bistro).
Its smart living residences come with vice-first technology (to control lights and music or contact the front desk), a resident-family app and smart TVs for entertainment and information about on-site activities.
A third-floor memory care neighborhood was designed for residents with cognitive changes. The amenities earned the community a "Recognition of Senior Living Design" from the American Institute of Architect in 2019.
Managed since 2019 by Eskaton, a nonprofit service provider for seniors, the community operates on private funds and month-to-month rentals. Rates range from $5,800 a month for a studio to $8,000 a month for a two-bedroom unit.
"Memory care units with companion suites start at $5,200 a month, while private studios for memory care run $6,900 a month and one-bedrooms about $8,100 a month. (The health care district also provides a below-market-rate program for those who meet specific financial-need criteria.)
Despite pandemic-driven limits on group activities, there's plenty of opportunity to socialized, something the widowed Maran missed while living alone in her San Mateo condominium before moving into The Trousdale 18 months ago.
"There's a nice group of people here who you can have nice conversations and drinks with," Maran said. "That makes it very nice."