The Trousdale – Assisted Living
Assisted Living on the Peninsula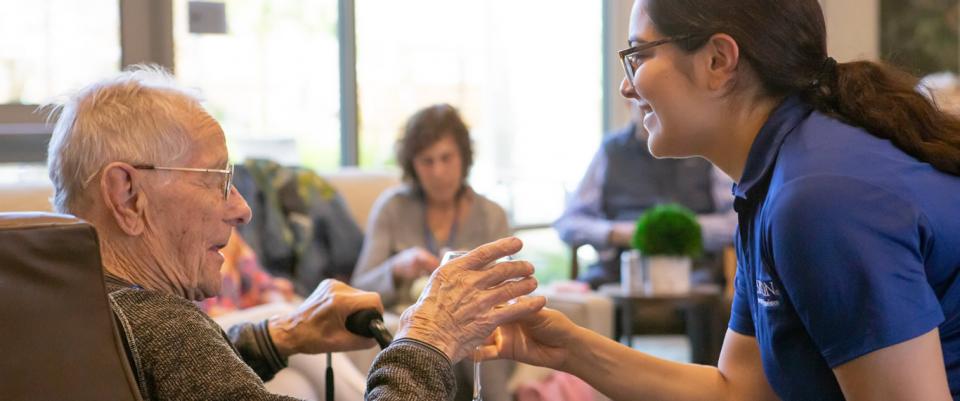 The Trousdale is committed to offering our residents an enriched lifestyle while providing support with activities of daily living (such as bathing, dressing, or grooming). In addition to enjoying restaurant and bistro dining options, housekeeping and transportation services, access to wellness and fitness centers and many opportunities for social connection, our residents are comforted knowing our compassionate staff is on-site 24 hours a day to ensure their lives are as independent and meaningful as possible.
Our innovative programs use creativity and technology to help keep residents healthy and thriving. Partnering with K4Connect and Amazon Alexa, The Trousdale integrated smart home tools and voice-capable technologies to give residents more control over their environments and keep them in touch with their loved ones. Our award-winning signature program Kids Connection keeps seniors connected to the generations that follow, demonstrating incredible benefits to the overall health and well-being of those who participate. Other features and services include:
Other Features and Services Include:
Wellness Center with direct access to physicians, therapy and wellness services
Exercise and group fitness center, including classes in tai chi and Yoga
Holistic services featuring massage, acupuncture and aromatherapy
Lifelong learning opportunities through lectures, classes, art, music and spiritual events
Innovation hub featuring smart sensor LED lighting inspired by Silicon Valley technology and free Wi-Fi
Pet-friendly
Our dedicated team members are ready to answer any questions you may have. Call today to schedule your own virtual tour and experience all The Trousdale has to offer!
---