Eskaton Lodge Granite Bay Senior Living

Eskaton Granite Bay
Independent Living with Services and Assisted Living in Granite Bay, CA
World Class Senior Living in Granite Bay
Over 8,000 surveyed families have said they'd recommend Eskaton to their friends and family, earning Eskaton a "World Class" Net Promoter Score (NPS)*.
Located on five acres, one mile from beautiful Folsom Lake, Eskaton Granite Bay offers a serene setting for seniors looking to thrive during their retirement. Our pet-friendly community provides residents with the security of a worry-free lifestyle and the activities and amenities to remain engaged.
Eskaton offers a variety of residence options and programs that give residents independence, while still offering access to supportive assisted living services, if and when they are needed, without the need to change apartments. Our attentive staff is available 24 hours-a-day to provide additional peace of mind for the whole family.
Whether you are ready to leave behind the burden of maintaining a home, want the security of round-the-clock assistance, or just want to make new friends and discover new passions, Eskaton Granite Bay offers a convenient environment for seniors looking to enrich their lives and enjoy their independence.
Eskaton Granite Bay is all about making sure you're experiencing the highest quality of life. We invite you to visit and see why we believe age is beautiful; a reflection of the lives and stories of our residents.
*
Vital Research, a third-party firm, conducts real-time satisfaction and Net Promoter Score (NPS) research for Eskaton-owned and managed communities to determine overall customer satisfaction and their willingness to recommend our communities and services to others. Data collected October 2016 through 2021.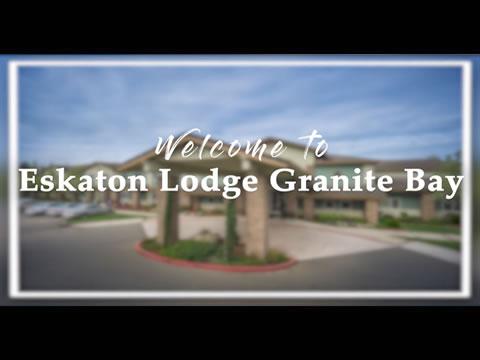 Community Tour
Directions
Eskaton Granite Bay
8550 Barton Road
Granite Bay, CA 95746
License #317005628
916-789-0326
For Pricing & Availability
Leadership
Levels of Care
Eskaton Lodge Granite Bay
Photo Gallery

1/17