A Culinary Journey Awaits at Eskaton Village Carmichael
It takes a lot of work and time to put all the pieces together, but at the end of the day, it's about the resident experience. The quality of the food, the quality of the service, the face and the smile—it's all of it put together that delivers authentic hospitality.
~ Executive Chef, Eskaton Village Carmichael
Whether you're sitting down for breakfast, lunch or dinner, or grabbing a quick snack in between, the culinary experience at Eskaton Village Carmichael is just one of the many reasons life in this award-winning senior living community is so exceptional. The perfect balance of fine dining and home-style cooking, the delicious cuisine offered in our dining venues is crafted to satisfy both the nutritional needs and the discerning palates of our beloved residents and their honored guests.
Our culinary professionals have discovered new and creative ways of transforming meals into extraordinary events; our weekly Sunday brunch buffets are wildly popular with our residents and their families, and our themed dinners like wine pairings and "Champagne and Caviar" tastings have garnered rave reviews. We offer vegetarian meals every daily.
With an expansive, country club-style layout, our formal dining room encourages friends to sit together, and with hosted Happy Hours and wine and beer available for purchase, our residents often find mealtimes the most social part of their day.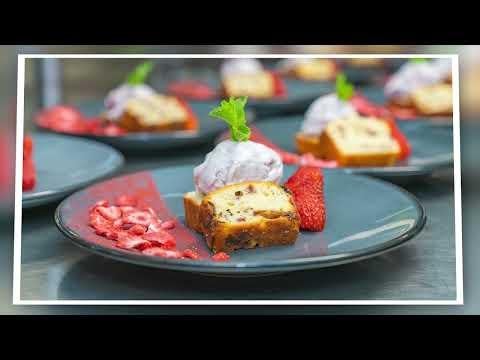 A Culinary Journey Awaits at Eskaton Village Carmichael
Eskaton Village Carmichael also offers room service for those wanting to dine in the comfort of their own residences, and a private dining room with personalized catering is available for those special occasions. If you're looking for a more casual, contemporary dining experience, grab one of our "Grab and Go" meal options from the Village Café. Prefer to dine al fresco? Try one of our several outdoor patios and enjoy your meal in the glorious Northern California sunshine.
Beyond creating nutritious, delicious cuisine, we host monthly chef demonstrations, virtual cooking classes with Executive Chef Brandon Meadows, and an annual Farmers' Market to reaffirm the connection between our residents and their food. If you're an older adult looking for the complete culinary experience, look no further than Eskaton Village Carmichael.

I'm really happy with the food here. It's great we're able to enjoy fine dining without having the leave the community. ~ David, resident at Eskaton Village Carmichael
---
If you're interested in learning more about Eskaton Village Carmichael, please contact us or schedule a tour today!