End of Life Educational Sessions
THE FINAL CHAPTER: HOSPICE AND THE DYING PROCESS
Eskaton Foundation has partnered with the Coalition for Compassionate Care of California to bring you these sessions promoted by the Eskaton Village Carmichael End of Life Committee.
Please join us for our educational sessions and learn valuable information about End of Life.
To RSVP or for more information, please contact Nicole Zamora, CFRE at 916-334-0810 or email foundation@eskaton.org.

All Sessions Start at 7:00 p.m.
---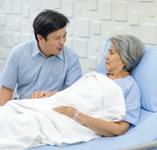 Wednesday, November 2, 2022

THE FINAL CHAPTER: HOSPICE AND THE DYING PROCESS
Just as with childbirth, the body goes through a natural process when dying. Often referred to as "active dying," this final stage of life is the natural process of bodily functions slowing down and eventually ceasing. Knowing what to expect and what you can do during this time provides a greater sense of control and peace of mind. For those interested in hastening their death, California's End of Life Option Act (EoLOA) provides that option under specific circumstances.
This session will cover:
What is Hospice
The active dying process, including the signs, symptoms and phases.
Options for addressing pain at the end of life and creating a peaceful passing.
How to best support someone during the active dying process.
How to utilize the EoLOA, including who is eligible, requirements for participation and locating participating providers.
---
Wednesday, November 16, 2022

LEAVING A LEGACY: LIFE THE WAY YOU WANT TO BE REMEMBERED
Death impacts not just the individual who dies but also family, friends and others who were a part of the individual's life. Thinking about the legacy you want to leave behind can play an important role in finding meaning in the journey of life.
This session will cover:
Resolving interpersonal difficulties by addressing the four things that matter most.
Creating an ethical will as a way to communicate your values, experiences, and life lessons.
Recognizing the expression of loss in all its forms, including grief, bereavement and mourning.
Creating rituals to honor the person, deal with loss and stay connected.
How to deal with a sudden, unexpected death.