The Reutlinger Community – Skilled Nursing and Rehabilitation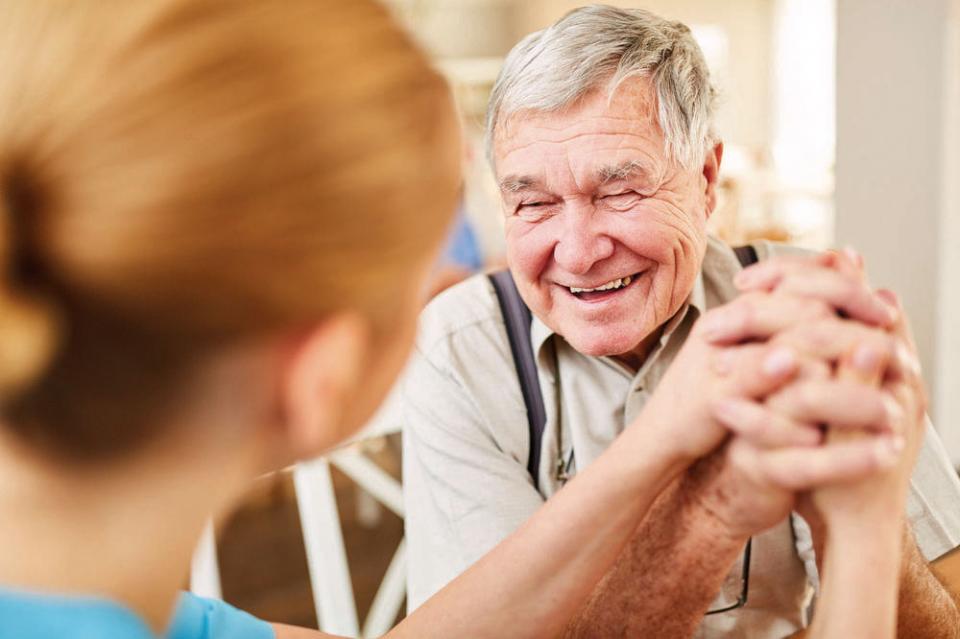 The Reutlinger Community's 5-star skilled nursing and short-term rehabilitation services provide a comfortable and nurturing environment for those older adults recovering from an illness or surgery.
We have 60 private and shared rooms for our skilled nursing and rehabilitation residents. Our program encourages and nurtures residents and their families in an environment that respects the dignity and lifestyle of each individual. Our caring and dedicated team is made up of a diverse group of skilled clinicians with decades of combined experience.
Please contact the Admission Coordinator at 925-964-2036 to schedule a tour or have us answer any questions you may have.
Skilled Nursing Services Include:
Close medical attention from dedicated specialists and experienced nurses
Personal assistance with activities of daily living
Medication monitoring and assistance
One-on-one physical, occupational and/or speech therapy with a licensed therapist three-five times per week, with appointments available seven days a week
Support from an on-call psychiatrist
On-site social services director providing discharge planning assistance
Spiritual, cultural and social support
Social programs seven days a week
Short-Term Rehabilitation
Our 5 star rated Short-Term Post-Hospital Rehabilitation Center specializes in helping individuals of all ages and faiths return home successfully following a hospital stay resulting from illness or surgery.
Restoring and Maintaining Independence
We believe the key to success is not just the amount of rehabilitation, but the focus of rehabilitation that makes all the difference. To us, it is all about getting our clients better– faster. We focus on helping clients return to an independent lifestyle by assisting with mobility, strength and improvement of a client's ability to navigate daily life.
When you need short-term rehabilitation you have a Team of Rehabilitation Specialists who are unified in their dedication to providing daily wellness activities and concentrated therapies to promote optimum health and renewal.


Programs Include:
Fall prevention therapy
Mobility equipment training
Gait and ambulation improvement
Individualized care plans
Strengthening activities for daily living
Speech & language improvement
Physical reconditioning
Endurance
Strength
Restoration of function
Stress reduction
Patient education
Family involvement is encouraged. Close communication is maintained with the referring physician and other members of the healthcare team throughout the rehabilitation program.
Under the directions of your referring physician and the rehabilitation therapy team your journey to wellness begins the moment you arrive. You will meet your therapists and establish tour goals and a plan for restoration.
The Reutlinger Community is in partnership with Live Well at Home, offering non-medical home care services to older adults living at our community or to persons living in Contra Costa County. If you need home care support, please contact Live Well at Home or call 925-626-4340.

---
Skilled Nursing Admissions
For your convenience, we've provided the following documents for skilled nursing admissions at The Reutlinger Community. All files are in PDF format and can be downloaded directly from this page.
California Standard Admission Agreement & Residents Bill of Rights
The California Standard Admission Agreement is an admission contract that RCJL is required by state law and regulation to use. It is a legally binding agreement that defines the rights and obligations of each person signing the contract. Please review this agreement and sign before admission.
The State of California Department of Public Health has prepared this comprehensive Resident Bill of Rights (Attachment F) for people who are or will be receiving care in skilled nursing facilities. There are no signatures required in this section but you may want to print out the 39 pages to have for reference.
Please contact the Admission Coordinator at 925-964-2036 with any questions you may have.

---
The following consent forms are necessary for us to provide medical treatment, laundry services and ancillary services. Please read through the forms and sign accordingly. For short term stays, some of the ancillary services may not be needed at this time. Please contact the Admission Coordinator at 925-964-2036 to respond to any questions you may have.
---