Senior living company Eskaton sees occupancy beginning to recover from pandemic

November 18, 2021
By Emily Hamann – Staff Writer,
Sacramento Business Journal
Like senior living companies around the country, low occupancy dragged down Eskaton's revenue through the first three quarters of the year. But the Carmichael-based nonprofit says occupancy is on track to come back as recovery from the pandemic continues.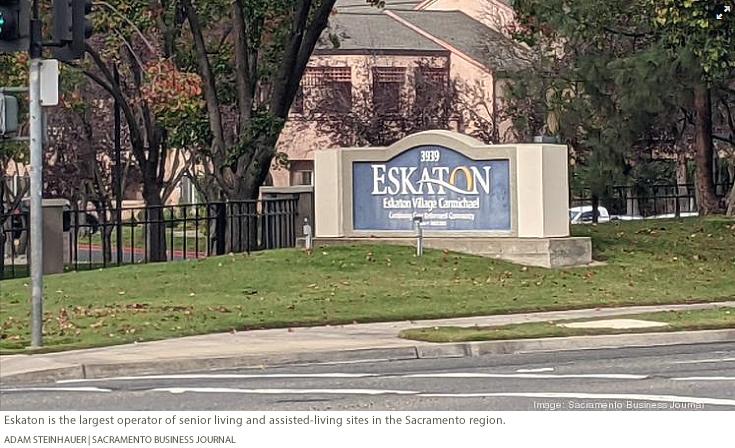 Net operating revenues for Eskaton's obligated group came in 7.2% below budget for the first nine months of the year, according to a financial document disclosed to bondholders. The disclosure only includes financial results for properties that back the company's long-term debt, which excludes its senior living community in Placerville. Eskaton is the largest operator of senior living and assisted-living sites in the Sacramento region.
The disclosure credited the $6.6 million decline in revenue from budget to lower occupancy than expected for the year thus far, particularly in assisted living and memory care. The company had $84.8 million in net operating revenues during the first three quarters of 2021, compared to $89 million during the same period in 2020. However, at this time last year, Eskaton had netted a $2.7 million loss, and now it's back in the black, with $941,231 in net income for the first three quarters of 2021.
"The drop in occupancy and revenue is directly related to Covid," said Todd Murch, CEO of Eskaton.
Across the country, occupancy at senior living facilities has declined since the pandemic, reaching a historic low in the first quarter of this year, according to the National Investment Center for Seniors Housing & Care. But by the third quarter, the widespread vaccination of seniors and resulting decline in case counts and mortality rates among seniors led to the first recovery in occupancy since the pandemic began.
"I think we're not unique in the senior living field, where you see a decline in occupancy," Murch said.
The disclosure says that Eskaton has also seen an increase in occupancy in the third quarter.
"We're starting to rebuild occupancy and we project that will go steadily throughout 2022," Murch said.
However, bringing in more residents will require finding more skilled workers to care for those residents.
"Workforce, quite honestly like a lot of people, is our No. 1 operating challenge right now, and it will continue to be so for the foreseeable time," Murch said.
Murch said that, while so far the company has been able to find the staff it needs, an ongoing challenge will be hiring enough workers to build occupancy back up.
"We're fully staffed to meet the needs of our residents," Murch said. "It's more just being able to attract them at the pace we would like to."