Activities and Events
The Reutlinger Community
ACTIVITIES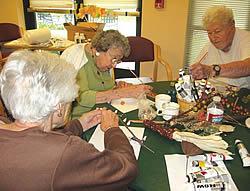 Indulge yourself in a wide array of planned enrichment programs, activities and events, as much or as little as you like. The choice is yours. Enjoy a concert, sculpt or paint in our art studio, wake up to an exercise or yoga class, play a match of chair volleyball, attend a lecture series, sing in our choir, join our book club, or participate in many of our outings to the theater, museum, and other local attractions.
Art Program & Artist-in-Residence
Under the direction of Betty Rothaus, MFA, the "Discover the Artist Within" Program provides classroom, individual and bedside opportunities for budding resident artists to explore a variety of artistic expressions. Our award-winning program has been heralded as one of the most outstanding Art Programs in the country.
Many residents who come to the art program have never picked up a brush or tried charcoal and chalk drawing. With Betty's tutelage, many residents go on to have their works displayed on the walls of The Reutlinger Community, in the local community and, for example, the De Young Museum in San Francisco through the Elder Arts Program.
The joy of creation and the receipt of applause has given many of our residents the boost they needed to make the days at The Reutlinger Community purposeful and highly rewarding.
---
Chair Volleyball
This fun activity helps residents keep socially engaged and physically active. Chair volleyball is just one of many activities available that promotes comradery, reduces stress, and boosts self-confidence and self-esteem. A simple activity such as this, that all residents can participate in, improves cardiovascular fitness, flexibility, and muscle tone and endurance.
---
The best way to explore our community is to schedule a tour with one of our residential living advisors.
The health and safety our visitors, residents and staff remains of paramount importance, and we continue to follow recommended guidelines to offer you a safe, personalized experience. To learn how to arrange a visit or to take a virtual tour of our campus, please call 925-964-2098.
---