Volunteer Spotlight
Meet Jerilyn and talented pet therapy dog, Wylie!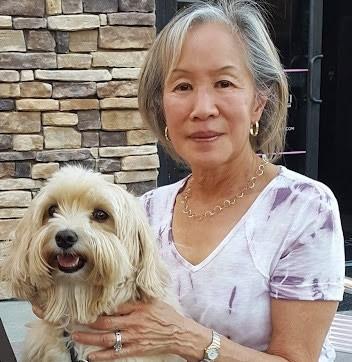 Jerilyn and her trained and talented pet therapy dog, Wylie, have been serving within the memory care neighborhood at Eskaton Village Carmichael for two years. After taking a break during the pandemic, Jerilyn and Wylie were quick to resume their weekly visits bringing joy to the residents as soon as they were able. Jerilyn describes the community and team members as caring and nurturing. When asked what she enjoys most about volunteering at Eskaton, she replied, "I receive positive feedback and much satisfaction when I see that the residents are enjoying petting Wylie and observing him doing his tricks. It is very gratifying to be able to serve the senior community, which I feel is often overlooked." She continued, "One 100-year-old resident's eyes light up with delight every time she sees Wylie and is able to pet him."
The Village Carmichael team members were quick to share their appreciation for Jerilyn's faithful service. Nancy Charlet, life enrichment coordinator at EVC, shared "Jerilyn gives her time and energy to visit with each resident, encouraging and brightening their days through their interactions with Wylie. Wylie gives warm love and brings smiles and laughter to many of the residents, especially those who are former pet owners." Nancy explained that Wylie's visits encourage residents to talk about their beloved fur babies.
It is Jerilyn's commitment to the happiness of others that inspires us all to invest our talents and resources to make a positive difference in the lives of others. Thank you, Jerilyn and Wylie, for your kindness and dedication to our community's older adults.
Consider how to use your talents to make a difference!