Bringing Broadband, Devices, and Training to Affordable Housing Residents
The Lighthouse for Older Adults initiative works to diminish isolation and improve access to health care, wellness, and services for low-income residents.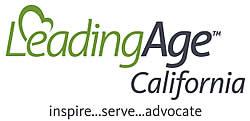 October 7, 2021
Lighthouse for Older Adults is an initiative bringing high-speed Wi-Fi and digital devices to low-income senior housing residents. The program was launched in 2020 by the Center for Information Technology Research in the Interest of Society (CITRIS) and the Banatao Institute, a University of California research center focused on using IT solutions to build social and economic benefits.
CITRIS is working with two LeadingAge-member providers in California—Eskaton and Front Porch—to upgrade broadband access and teach residents to use wireless devices.
"The ultimate goal is [...] to address depression, improve digital capability, and hopefully, move to a much higher level of activity such as telehealth," says David Lindeman, CITRIS health director and Lighthouse project lead. Lindeman says the combination of poor or nonexistent broadband access, lack of digital devices, lack of health care services, and social distancing aggravates the isolation that affects so many residents.
The initiative, funded by a private donor, hopes to expand among more long-term services and supports providers across the country.
Getting Started
Eskaton was approached about participating in the Lighthouse Project in summer 2020 (Lindeman sits on the Eskaton board).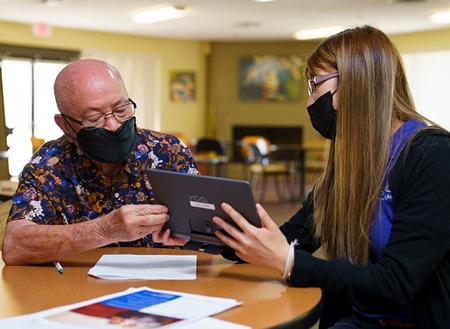 "We engaged in rolling out enhanced Wi-Fi and smart technology, and then really creating a model that could be scaled across Eskaton affordable housing," says Therese ten Brinke, Eskaton's director of strategic initiatives. "We wanted to see elders having access and growing digital literacy all across California. We [did] deep discovery work with residents to understand their needs; we tried not to make any assumptions, and to figure out what they wanted to see for a tech solution."
Eskaton did focus groups, needs assessments, and discovery circles with residents before implementing the program. It learned how many were already using technology, including how many had had telehealth appointments with doctors, for instance.
Front Porch also surveyed residents in multiple languages, asking about wellness concerns and experience with digital devices. Focus groups and interviews showed that about 60% of the population had visual, hearing, cognitive or mobility impairments.
Front Porch started with a "rapid pilot deployment" in 2020, also planning to install Wi-Fi in two residential buildings it manages—Vista Tower and Pilgrim Tower in Los Angeles. When lockdowns went into effect, it settled for installing wireless hotspots, paired with Google Nest Hub Max devices, in one building. Click here to read the full article.