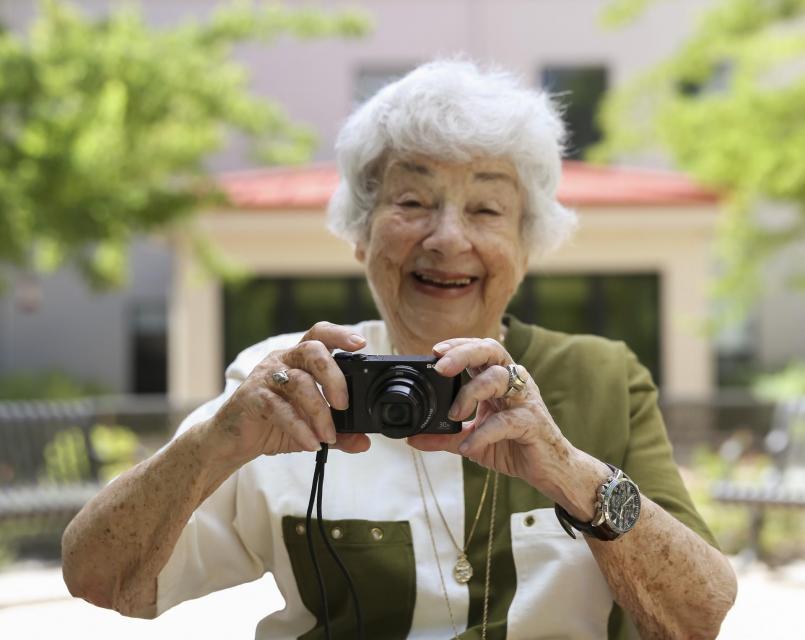 If you're lucky enough to catch Gloria Ruth out and about at The Reutlinger Community in Danville, CA, make sure you've got your best smile ready. Known as the community's "resident paparazzi," Gloria has been snapping pictures of the care team, fellow residents and the beautiful grounds since she arrived in 2012. Her shiny red camera—a gift from the TRC staff as a thank you for her contributions to the life and culture of the community—is almost as familiar as her irresistible laugh and good-natured sense of humor.
Photography has always been a great joy to Gloria. She can't quite recall when she first became fascinated with viewing the world through a lens, but the instinct to capture special moments and beautiful things is stronger than ever. "I must have 40,000 pictures on my computer. I don't do anything fancy with the camera, but I've always taken photos. I started as a kid, and I just love it."
Born in Brooklyn, New York in the early 1930s, Gloria was the oldest of four children born to her loving parents. Growing up with a large, close-knit family just blocks away, Gloria remembers a happy childhood full of dinners with her grandparents, outings with aunties and getting into trouble with her cousins. "We'd ride our bikes to Prospect Park every chance we could. I even fell in the lake with my bicycle once, and I wouldn't get out without my bike!" she recalls with a laugh. After her father experienced a debilitating heart attack that required a change in profession, the family decided to pull up roots

and head across the country to Los Angeles, where other family had already established a foothold.
After graduating from Fairfax High School in 1949, Gloria briefly contemplated a career in dental hygiene—"I thought I'd marry a dentist!" she quips—but life had other plans. Marrying less than a year later at the tender age of 19, Gloria soon had a baby on the way, one that was quickly followed by 4 more. Mother to 3 boys and 2 girls by the time she was 28 years old, Gloria remembers that busy time in her life with the greatest fondness. "I loved raising my babies. We raised our kids like a big group, a village." That village has now expanded to include 13 grandchildren and 11 great-grandchildren, and to hear Gloria tell it, it's only just the start of the Ruth family dynasty. "Being a grandparent is joyous intoxication," she beams.
It isn't just her own children, grandchildren and great-grandchildren that Gloria feels so passionately about. When her youngest child started kindergarten in 1964, Gloria herself headed back to school, starting out at Pierce Junior College before transferring to CSU Northridge. Gloria pressed on with her education until she'd earned a master's degree in Educational Psychology. "I loved babies so much, so my graduate studies advisor suggested I work with infants, and that's all I needed to hear. So I made my focus Infant Studies with Dr. Arthur H. Parmelee at UCLA."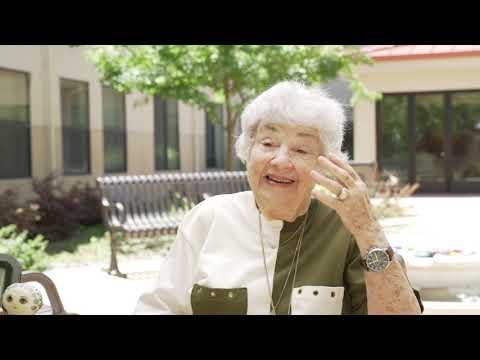 For over 30 years, Gloria worked with researchers and psychologists at UCLA and throughout Southern California, developing strategies and curriculums for children on the autism spectrum when the learning disability was just starting to be identified and understood. Gloria is still an active participant in the discipline, providing the expertise and knowledge she's obtained working with children via her private practice and The Mifne Center, an Israeli organization focused on early intervention in the treatment of autism for infants and their families. "Their treatment program is an immersive model—they bring the whole family in and the therapists work with the child and the parents and the siblings. They haven't eliminated autism of course, but they have been able to reduce the symptoms quite significantly. 76% of the children have been able to be mainstreamed."
Gloria was also able to apply her education and talents beyond the sphere of academia, employing them while working with families at the University Synagogue in Brentwood, CA for over 15 years. It was there that Gloria discovered a real sense of community. "It was a honeymoon period for me," Gloria recalls with a smile. "Giving parenting talks, having discussions, and just interacting with the families . . . We also talked a lot about Thirtysomething."
After retiring, Gloria found herself longing for that same sense of community, and she found it at The Reutlinger in Danville, CA. Her daughter Jane, a prominent lawyer in the Bay Area, had discovered the Jewish-faith senior living community and implored her mom to join her in
Northern California. After 6 decades in LA, the decision wasn't an easy one, but Gloria is delighted she made the leap. "I've been at the Reutlinger since 2012, my five-star hotel as I like to call it. Beautiful flowers on the tabletops in the dining room, three delicious meals a day. But the best part is if you ever need one of the amazing staff, you just push a button, and they're there, 24/7. There's just constant communication.
The Reutlinger Community, the most recent addition to the Eskaton family, provides comfortable, home-like accommodations and personalized care for older adults in the East Bay. Staffed by seasoned specialists with decades of experience in senior care and skilled nursing, the community is committed to delivering high-quality health care and social support services in a life-enhancing and stimulating environment with a commitment to Jewish values. With senior living options that include assisted living, enhanced care, memory care and skilled nursing, residents enjoy knowing that the full continuum of their needs and preferences can be accommodated, no matter how they change.
For Gloria, the best part of being at The Reutlinger Community is always having something to do. Whether spending time in the new garden, nurturing seedlings the same way she's nurtured hundreds of children, or giving talks to the residents about her trips to Israel, Gloria's days at TRC a full of interesting conversation, artistic pursuits and plain old fun. Gloria's path may have led her half-way across the world over the years, but we're delighted it eventually led her home, to The Reutlinger.