Eskaton Village Carmichael – Assisted Living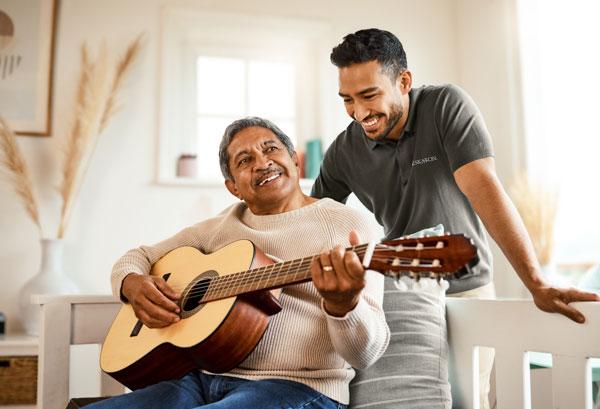 This was my first meeting regarding assisted living for my parents. I have driven by Eskaton in Carmichael many times and found it to be beautiful and well maintained.

I met with Shanti and she was very personable and professional. She asked me questions to help her understand my parent's needs and also allowed plenty of time for my questions as well. I never felt rushed or pressured. She took me on a tour of the facilities geared towards my parent's needs. Every private and communal room was exceptionally clean and, most important, was homey and welcoming. The facilities were immaculate and the staff I interacted with were very kind and caring. I highly recommend a meeting with Shanti Wills and a tour of Eskaton! ~ Debbie W.
In addition to providing a safe and comfortable environment for residents, Eskaton Village Carmichael offers a full spectrum of health care and support to meet every individual's needs. When you or your loved one is ready to make the move to assisted living, our park-like campus offers around-the-clock services that ease the transition and foster a good quality of life.
Eskaton is a pioneer in finding creative solutions to help ensure that our residents' lives are as independent and purposeful as possible. Signature programs like the intergenerational Kids Connection and K4 Connect are designed to keep our seniors active and connected to the next generation – including empowering them with technology.
Our assisted living community have tiered levels of service making it easy for residents to stay independent as long as possible but also to have the care they need if their situation changes. From assistance with laundry and housekeeping
to physical assistance and transportation, Eskaton Village Carmichael strives to make sure our residents are living life to the fullest. Monthly rates start at $6,138.
We invite you to visit Eskaton Village Carmichael so you can see why we believe age is beautiful.
Interested in our Eskaton Carmichael assisted living? Please contact us or schedule a tour today!