Kids Connection at Eskaton Village in Grass Valley
20 years of service celebrated with a Western themed hoedown

November 18, 2022
Article by: Marianna Boll-See
Children from Margaret G. Scotten Elementary School visited the Eskaton Village today to help celebrate Eskaton's 20 year anniversary in Grass Valley.
Eskaton Village is a nonprofit multi-level community for independent senior living, assisted living and memory care residents.
The children visit the location four times a year for various activities.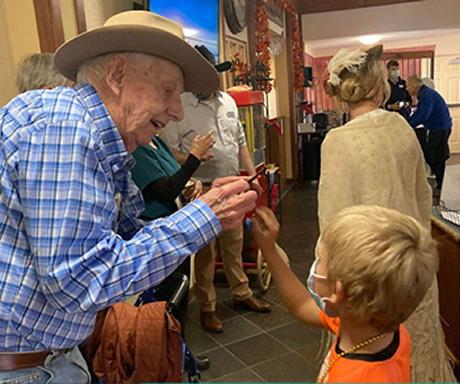 Games and prizes with the children started off the celebration, followed by a luncheon for residents and guests, and a performance by the Buffalo Girls singers.
Eskaton Kids Connection partners communities with elementary schools. Older adults experience positive outcomes such as strength and mental acuity. Children develop social skills, respect and sensitivity toward others.