A Labor of Love
Joyce Schramek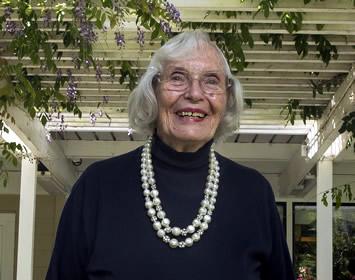 A young girl of 15 clambers out of an oil truck and onto the wings of a plane, swiftly filling its tanks with gas and oil before it roars down the runway, a young Army recruit just learning to fly behind the controls. Her sister, just two years older, sits in the cab, hollering at her younger sibling to hurry so they can fuel the next waiting aircraft. Both young women have put their high school educations on hold to work at the airfield, because if they hadn't, they (and the rest of their family) wouldn't be eating that night.
For most young people today, such a scenario is nearly unthinkable; for O'Connor Woods resident Joyce Schramek, this was very much her reality. Born in 1926 in the state of West Virginia, the seventh child of ten, Joyce grew up in the middle of the Great Depression, her childhood spent working alongside her parents and siblings on their Kentuckian farm, so the family might survive. Joyce's father had a job and a decent wage at the local boiler plant, but feeding a family of 12 was no easy task. "Everything we ate, we grew!" Joyce says. "We raised a cow for beef, one for milk, chickens for eggs and poultry, and Mother would put up over 100 quarts of fruit every year with her canning. We'd even make syrup from the sap of the trees that surrounded our house."
As the Depression deepened, Joyce's father lost the job that had kept the proverbial wolf from their door, so he struck out to find work, eventually landing in Texas with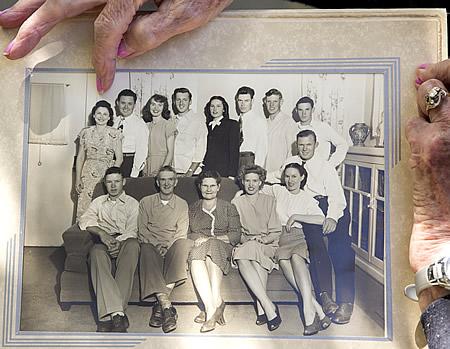 relatives. It wasn't long after that his wife and children joined him in the Lone Star state, and Joyce remembers fondly a season spent picking cotton alongside her cousins on her uncle's ranch. Though the work was hard, often starting at dawn and ending with the sunset, Joyce smiles fondly at the recollection. "When you have to work to eat, you learn to enjoy it," she quips.
Traveling across the country wasn't easy, in those days. Money for gasoline and food was hard to come by, so frequent stops were made to pick up enough work to get to the next destination. After the cotton season in Texas was over, Joyce and her family continued westward, working in Phoenix for a season before finally arriving in California more than a year after their departure. The family would spend the next 4 years working as farm hands on a ranch just outside of Dos Palos, the owner so impressed by the hardworking family that he had a series of cabins built just so they could live together.
Just before Christmas in 1941, the world radically changed when Japan attacked Pearl Harbor and the nation was thrust into the middle of World War II. With most of the men heading off to serve their country, it fell to the daughters, sisters and wives left behind to find work and feed their families. At just 15 years old, Joyce was one of these young women, giving up her high school education to spend her days gassing up the planes at Eagle Field. Once just a small country airfield used by little more than crop dusters, the United States Army took it over in 1942, turning it into a training base where newly-recruited pilots were taught to fly before they headed overseas. "My sister, she drove the truck and I'd hop up on the wings of the plane and fill 'em up. It's so sad we have to have a war to put everyone to work," Joyce remarks.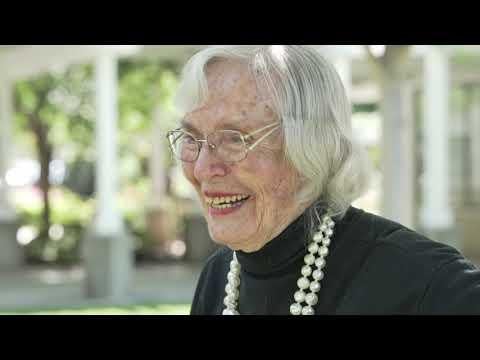 In 1942, his oldest sons now grown and off fighting, Joyce's father headed north in hopes of finding better work, ultimately landing at the shipyards in Richmond, California. Three of his daughters would join him on the job, the two oldest finding positions as welders, while younger Joyce was hired as a burner. Since girls under the age of 18 weren't permitted to work in the shipyards, Joyce had to lie about her age, going from 16 to "19" overnight. Dressing daily in head-to-toe protective gear like leather aprons, elbow-length gloves and steel-toed boots, Joyce spent her teens with an acetylene torch in hand, piecing together metal work on the "Liberty" ships—large freighters that carried supplies and ammunition to the fighting men across the sea. When asked about the working conditions in the shipyard, Joyce just smiles. "When you've been working all your life, it wasn't really that big of a deal. And it was good money, the most I'd ever made."
When the war ended in 1945 and there was no longer the need for ships (or those who built them), the sisters were summarily dismissed from their positions and sent on their way. The family was lucky enough to relocate to a suitable plot of land just outside Stockton, and it was just a short while later that Joyce would meet the man she'd marry. "I was working up at Camp Beale and I'd already made up my mind I would never date any of the young men there. They'd all just come back from the war, and I knew that any girl was looking pretty good to them by then," Joyce chuckles. "But then one night, Bob called, wanting to know if I'd see the new Van Johnson movie with him. I really wanted to see that movie."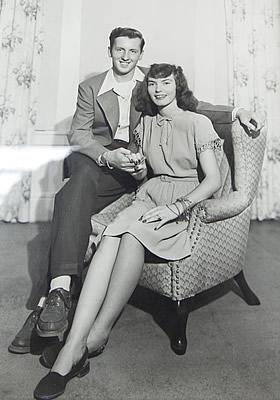 Determined to win his bride, Bob Schramek soon found a job with the San Joaquin County assessor's office, and the young couple were on their way, marrying in 1946. After just a year, Bob joined the county highway commission as a surveyor, working there diligently for the next 42 years and eventually becoming the man in charge. "I couldn't have picked a nicer man to marry. And he couldn't have picked a nicer girl," Joyce says with a laugh. After 21 years of marriage, Bob and Joyce were overjoyed (and quite surprised) to welcome their one and only child, Roberta, in 1967. 41 years old when her daughter arrived, Joyce had long since given up hope of becoming a mother, and she was determined to raise her child with the same love and care she had always known. "Once Roberta was born, my working days were behind me. I'd waited so long, I was going to spend my time with my child." Now a supervisor at the local hospital, Roberta is just a stone's throw from her mom and the two remain as close as ever.
If anything can be learned from this incredibly hardworking woman, it's that the love of a united family and a willingness to prosper can take you far, if you have the resolve. "If I could be with my family, I would do it all over again," she insists. ""All the hard work, every bit of it. My family was everything to me." Though Joyce never had the opportunity to finish her education, it certainly didn't stop her from pursuing a life she loved, and one she's incredibly proud of. At 94 years of age, Joyce is still going strong, making the staff and residents of O'Connor Woods laugh with her wit and humor. "I really enjoy this life," she says. "Really, when you get this age, death isn't a fear. It's simply the next adventure."