Life is an Adventure
Inge Roberts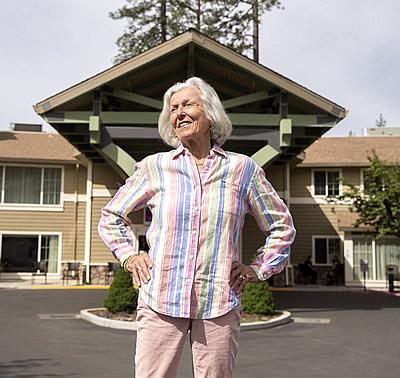 Sometimes the path of life takes us places we'd never thought we'd go, and yet, we find ourselves right where we were always meant to be. For Eskaton Village Grass Valley resident Inge Roberts, this is especially true. Born in Berlin in 1938, Inge spent the early years of her childhood scrambling for the safety of her father's pre-stressed concrete basement while bombs from Allied planes rained from the sky. When the second Great War was finally over, Berlin was decimated, but Inge and her family were alive and safe—and ready for whatever life had in store.
The middle child of one of the preeminent bridge builders in Germany, Inge and her family left post-war Berlin just as troops from the USSR troops were moving in, walking the countless miles to Austria where they were taken in by relatives. With the destruction wrought by the war, Germany was in shambles and the demand for intelligent, innovative engineers to rebuild the nation was high. Within a few months of their exodus, the family was able to return to Germany, settling in Munich, where Inge's father was offered a professorship at his alma mater, the Technological University of Munich. Supported by the engineering industry and the German government, it was there he was able to complete his research and development of utilizing pre-stressed concrete in designing bridges, and the family began to rebuild their lives.
A rather intelligent and precocious child, Inge was placed in the same classroom as her older brother, who struggled with school due to learning difficulties. Inge found herself helping him with his classes through high school, often smuggling answers to him on the sly. She credits this time in her life as the foundation of what would later become her career—teaching middle school children math and science. After graduating from high school, Inge attended university in Munich as well, contemplating a career in medicine. As fate would have it, she had other adventures waiting for her across the Atlantic.
Twenty-one years old, fiercely independent and living on her own in Munich, Inge was appalled when her father approached her boss without her knowledge, asking if it was possible his daughter could finish her studies in America, where he'd been offered a visiting professorship at Cornell University. "I was quite upset with him, at the time," she recalls. "He should've known me better than that." They'd been especially close, her brother and little sister occupying the majority of her mother's time and attention during childhood, and Inge was frustrated that her father would make such arrangements without her knowledge or consent. Despite her irritation, Inge agreed to leave Germany with her family, embarking on yet another adventure in the United States.
And there, she fell in love.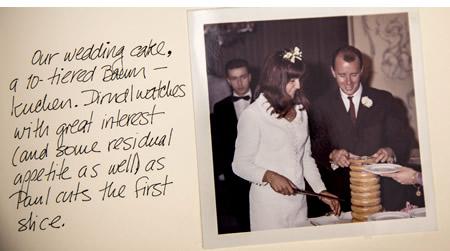 A promising graduate student of her father's, the young man she would eventually marry had an interesting habit of coming to their house in the evenings to ask her father questions he already knew the answers to. Noticing that this student of his would always stay for dinner and take his daughter out afterwards, Inge's father eventually sat the young man down for a frank talk. "'You're an adult', he said. 'So is my daughter. If you want to date her, ask her out. Stop coming by with these ridiculous questions and wasting my time,'" Inge recalls with a grin. It wasn't long after that Inge and her young PhD student, Paul Roberts, were engaged and yet another adventure began.
Despite a rather shocking start in life, Inge insists her childhood was filled with good things—plenty of food to eat, plenty of fresh air and sunshine, and the freedom to explore the outdoors with her siblings. Her love of nature is still evident now, with Inge traversing the walking paths and trails around EVGV on a daily basis. Navigating the dappled ground with ease, Inge is a power walker of the most energetic sort, each foot placed in front of the other with the determination and grace that so clearly defines her.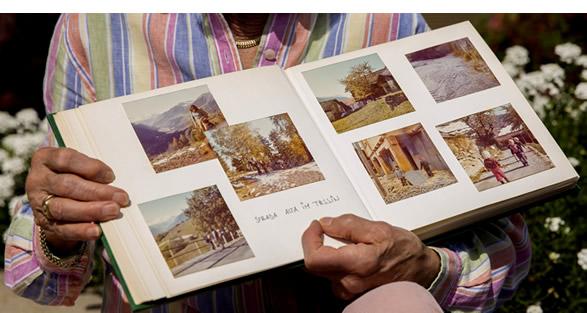 Once an avid skier, Inge talks dreamily of the Alps and the lure of freshly-fallen snow, but insists the natural beauty that surrounds her Eskaton community does much to ease the longing for her childhood home. "It's so lovely here. How could I stay inside?" she asks.
Inge came to Eskaton in February 2017, a choice she made for herself and her family after receiving a quite unexpected Alzheimer's diagnosis. Having worked as a medical assistant before starting her teaching career, she all but diagnosed herself, recognizing early the signs that something wasn't quite right. "I'd always been the one in my family with an impeccable memory," she says. "Never had to write anything down, never had problems remembering anything. But when I found myself in the grocery, standing there with my basket and money and not knowing why I was there, or what I needed, I knew something was wrong." Having lost her husband Paul early, Inge decided the best option was to find a place where she knew she'd be supported and cared for as her needs changed. That place was Eskaton Village Grass Valley.
In the three years since, Inge has become a regular celebrity at the community. Calls of hellos and warm wishes follow Inge wherever she goes, whether on her walks outside or while she strides through the halls of EVGV. The woman leaves little doubt that she's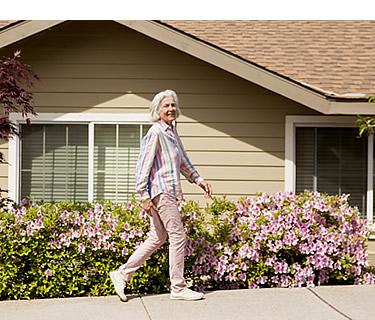 got places to go, and things to do, and that having to adapt to cognitive change is only one facet of this fascinating and energetic human being. She talks openly and frankly about her diagnosis, and though she wishes her brain still functioned as well as the rest of her, she remains steadfast and resolute in her determination to live well. "It's all about attitude," she insists. "Do something you enjoy each day. Otherwise, what's the point?"
Though there are still changes ahead for Inge—changes she knows will mean losing more precious memories—she approaches each day with a mixture of elegance, fortitude and sheer grit. It's no wonder so many of her neighbors and friends at EVGV look to her for guidance, especially in times of great uncertainty like the one we've recently experienced. If any lesson can be learned from this wonderful woman, it is that you should never fear change. "I know now not to be afraid to age. The inside counts so much more that the outside appearance," she says. Life is complicated, and often difficult (as great adventures tend to be), but we have choices in how we navigate the challenges we face. Inge reminds us all that when life hands you lemons, there's nothing to do but smile—and build yourself a lemonade empire.