Talking and Listening are the Main Ingredients for Good Dining
From the Executive Director's Desk
March/April 2022

Dining and culinary have always been one of the most important parts of community life for residents–and for executive directors, too. The pandemic and its changes to daily life and routines had a particular impact on dining, as well.
Certified Director of Assisted Living Kim Delgado shared insights and learnings during a recent email interview.
Q. How have you found that dining changed during the pandemic?
A. Dining has changed in several ways throughout the pandemic. When the world shut down, assisted living communities were no exception. All the residents were isolating in their apartments and were eating food off disposable dishes to limit cross contamination.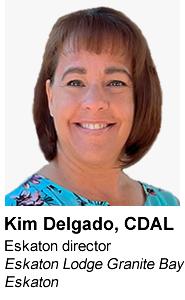 Once the residents could start eating in the dining room, they were required to still be six feet apart, which caused even more frustrations for the ones with hearing impairments.
They were also required to dine in "pods" of 10 or fewer, and to not cross from floor to floor in this multi-level community. This left them missing their friends that lived on different floors.
The happiest day for our residents was when they could eat at a table with their friends and get back to that "normal" of pre-pandemic dining experience. They didn't care about not having tablecloths or cloth napkins, as long as they could socialize with their friends.
Q. What changes do you think will last?
A. The dining changes that I think will continue going forward are with regard to sanitizing–both sanitizing of hands before entering the dining room and disinfecting of tables and chairs after each meal.
While this often was done pre-pandemic, the level of detail and focus is higher now than ever before. Or residents like to site and eat with their friends at "their" table for each meal. In effect, this continues to "pod" practice of dining in small groups.
Q. Do you have any tips or advice to increase retention and/or recruiting in dining services?
A. Retention and hiring of dining services took a major hit during the pandemic, just as the care teams did.
Our biggest success for hiring dining staff was through advertising at the local high schools. We are fortunate to have several local high schools within a close proximity to our community.