Certified Nursing Assistant (CNA) Careers

Certified Nursing Assistant (CNA)
The Certified Nurse Assistant provides personal care, nursing assistance, and other assigned tasks to residents. This position provides direct resident care, assists in daily living activities, provides resident documentation and evaluation. Duties and assignments may be adjusted at the discretion of the supervising nurse or the Director of Nursing based on the evaluation of the resident's needs.
Position responsibilities include (for a complete list, click on the "APPLY NOW" button below):
Provides or assists residents in bathing/showering for thorough cleanliness and hygiene. Also provides or assists with grooming and hygiene of residents (i.e. shaving, oral hygiene, cleaning, trimming finger/toenails) in a safe and thorough manner on a daily basis.
Makes beds, straightens rooms, and keeps resident care areas in an organized manner.
Assists residents in dressing when needed and demonstrates concern for individual privacy while providing resident care.
Provides safe resident transfers involving bed, wheelchair, chair and/or shower chair.
Demonstrates ability to assist with toileting in a safe and thorough manner, as indicated in resident's plan of care.
Promotes independence in resident care as appropriate and demonstrates awareness of safety for both residents and the individuals providing care.
Takes and records temperature, pulse, blood pressure, and respirations as required.
Assists residents with simple range of motion or other exercises as directed by nurse or therapist and ambulates residents safely according to his/her endurance levels.

---
Our benefits include the following:
Employee Wellness Programs
Discounted gym membership
Annual health assessments
Many wellness campaigns and challenges
Company sponsored local events
No cost flu shots
Smoking cessation program
Smoke free campuses
Online doctor visits
Employee Assistance Program
Free counseling, legal consultations and referrals
Retirement Plan
100% company funded / minimum account balance $4,000.
(Minimum eligibility requirements apply)
Health Plan
Eligibility includes dental and vision after just 60 days.
Company Paid Life Insurance
$10,000 + Additional $10,000 AD&D coverage.
Paid Time Off Programs
Flexible Paid Time Off Plan (includes 9 holidays)
Short Term Disability
Sick Leave
Bereavement Leave
Jury Duty Pay
Voluntary Benefits Available
Additional Life Insurance for employee spouse and children
Long Term Disability – wage protection
Aflac plans available
Employee Referral Program
Do you know someone who might be a perfect fit for Eskaton? Refer a friend and collect some extra cash for a successful hire! There is no limit to the number of referrals you can make. Eskaton Recruitment Sign-on Bonus and Employee Referral Bonus
Ask us about our $1,500 SIGN-ON BONUS for full-time and part-time positions!
(Some restrictions may apply.)
---
With over 2,000 employees and 36+ properties in Northern California, Eskaton is a great company to build your career with while uplifting and supporting the lives of older adults and their families.
Eskaton is a nonprofit senior services provider that has served Northern California's older adults for over 50 years. Through innovative approaches to health, housing and social services, Eskaton is Transforming the Aging Experience by offering life-enriching experiences and creating a culture of purposeful living. Certified as "A Great Place to Work" by Fortune Magazine and selected by the Sacramento Business Journal as one of the "Best Places to Work," Eskaton genuinely cares about the financial security, health and well-being of their staff members. In addition to competitive pay and comprehensive benefits that include a company-funded retirement program, Eskaton employees appreciate knowing their work makes a real difference in the community and in the lives they touch.
Hear why joining the Eskaton family provides a sense of purpose.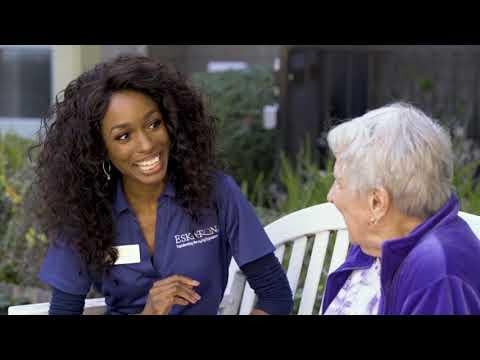 Eskaton's mission is to enhance the quality of life of older adults through innovative health, housing and social services. Our employees are an integral part of achieving this mission, as they fulfill an important role at Eskaton by bringing their own unique gifts to make that mission stronger.
Eskaton's vision is to Transform the Aging Experience. Due to social and cultural influences, many have come to view the aging process as something negative or something to be feared. In contrast, Eskaton and our employees see aging as a wonderful gift that should be embraced, as it is filled with opportunities for growth, new relationships and inspired wellness. We are committed to changing the narrative around aging and approaching older adults with respect, admiration and positivity.
Eskaton is dedicated to ensuring our culture mirrors our core values: inclusive, innovative, ethical, transparent and purpose-driven. We help our residents live as independently as possible by empowering them with the support they require to live their optimal life.
As a nonprofit organization, Eskaton's key stakeholders have always been, and will remain, our residents and team members. As such, we invest in programs and practices that benefit them directly and demonstrate how highly their quality of life is valued. We are dedicated to enhancing the well-being of older adults through the development of life enrichment programs and the integration of innovative technology. Ensuring that we have available wellness programs and additional support for our staff is equally important.